In Mangalore, Protests Seeking Justice for Kathua and Unnao Rape Victims are Also a Fight for the Survivor Murdered in Dharmasthala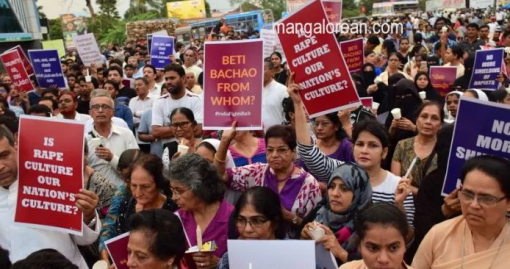 On 16 April, 2018, Mangalore saw protesters gather in front of the District Commissioner's office seeking justice for the Kathua and Unnao rapes. It began with the Dharmasthala survivor's mother lighting the first candle to lead the march. The protest was one among several others that broke out in multiple cities across India after news of marches in favour of the accused were reported in Kathua, Jammu.
In Mangalore, the case instantly reminded the marchers of a student who was brutally raped and murdered on 9 October, 2012 in Dharmasthala. Six years later, the family is still looking for justice. According to Daijiworld's report, the survivor's mother said at the protest, "Five years ago, my daughter was brutally raped and killed. Even today, I am fighting for justice and I will continue until I get justice. I do not have any affiliation to any party, religion, caste — for me, all are equal. I request you to support me and stand with me."
The Central Bureau of Investigation (CBI) had arrested Santosh Rao, a contract labourer from Kumdapura. He was the sole person accused in the chargesheet. But, on 13 April, 2017, he was released by the CBI court. The three persons accused by the survivor's father — Uday Jain, Malllik Jain, and Asrith Jain of Dharmasthala — were not probed by the CBI at all. Bangalore Mirror quoted Judge B S Rekha, saying, in an order passed on 10 February 2017, "Even in my opinion there are serious lapses on the part of the CBI in not conducting proper investigation." The court further added, "The witnesses have categorically stated the names of the persons who committed the crime, but the CBI has not properly probed that particular aspect."
At the protest site yesterday, Narendra Nayak, President of the Federation of Indian Rationalist Associations (FIRA), recalled Sowjanya's fight for justice. He was quoted saying, "First and foremost, a son should be taught to respect women and not treat them as objects. He should be taught to treat men and women equally. Five years ago, Sowjanya was raped and murdered in Dharmasthala, but still justice has not been done. The mindset towards women needs to change. We should never hesitate when it comes to raising our voice. When thousands of voices are raised, there will be a sense of fear among guilty politicians and perverts".
---