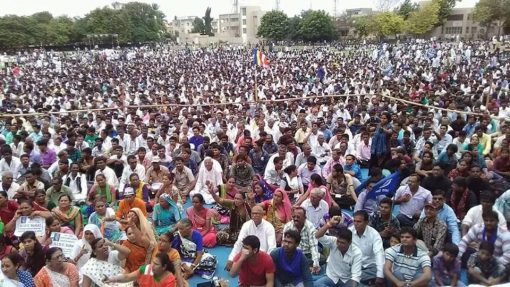 Angry protests broke out across India on April 2, against a Supreme Court judgment that is seen as protecting those who commit atrocities against dalits. Crowds of protestors gathered in towns and cities of Gujarat, Rajasthan, Haryana, Punjab, Uttar Pradesh, Madhya Pradesh, Bihar, Odisha, Maharashtra and other places, stopping rail and road traffic, confronting police forces and often damaging vehicles and other property. Central and state govts., mostly of the BJP or its allies, were scrambling to respond to the grave situation even as the Central govt. filed an appeal against the judgment after nearly two weeks of delay.
At least four persons have been killed in these protests which are amongst the most widespread in recent years and represent an outburst of pent up anger and frustration among dalit communities at increasing incidents of violence against them. Reports suggest that hundreds were injured in clashes with police, or in some places, with upper caste organisations like the Karni Sena in Rajasthan.
Dalits have been experiencing a rising trend of violent attacks in the past few years. Between 2010 and 2016, registered cases of crimes against dalits had increased by 10%, while such cases against adivasis had increased by 6%.
While this was the state of crimes, the response of the judicial process was even more disappointing. Cases pending for trial increased from 78% in 2010 to 91% in 2016 for dalits while for adivasis the increase was from 83% to 90%. This shows that the course of getting justice was log jammed. Analysts point out that this happens because the investigative and judicial process are not interested – or perhaps opposed to – justice being delivered because of their caste biases.
The most damning evidence for betrayal of justice is this: between 2010 and 2016, conviction rates dropped sharply from 38% to 16% for crimes against dalits, and from 26% to 8% for crimes against adivasis.
Another provision of the law (section 14 of the Act) that has not been implemented is of setting up Special Courts in each district to deal with cases of atrocities. Out of over 600 districts in the country, just 194 courts have been set up in 14 states. According to the ministry of social justice, states without such courts include Bihar, UP, Madhya Pradesh, Maharashtra, Rajasthan, Chhattisgarh, Gujarat, Jharkhand, Karnataka, Odisha, Tamil Nadu and Telangana. They account for about 80% of atrocities.
What sparked off today's unprecedented demonstration of growing unrest and discontent was a Supreme Court judgment on 20 March this year in which a two-judge bench criticized the "abuse of law" under the SC and ST (Prevention of Atrocities) Act, 1989. The law was meant to prevent continuing atrocities and discrimination against dalits and adivasis by providing for arrest and punishment of those found indulging in such acts. The apex Court directed that public officials couldn't be arrested under the Act till permission was given by appointing authority and also that private individuals could only be arrested after a Senior Superintendent of police allowed it. The Court also allowed anticipatory bail in these cases.
The BJP govt. at the Centre was seen as dilly-dallying in its response to the court's order. Although nearly two weeks had passed but there was no reassurance that the govt. would appeal against the judgment. Only today, as violent protests broke out, did the law minister announce that an appeal had been filed in the Supreme Court asking to modify the earlier judgment.
Besides this immediate context, dalits have long nurtured a sense of deep grievance about the law never catching up with those that commit the most brutal atrocities on them. Some of the well-known caste massacres in Bihar where accused were let go by the Patna High Court include the Bathani Tola massacre (1996, 21 Dalits) in which all 23 Ranvir Sena accused convicted by the lower court were acquitted in 2012; the Lakshmanpur-Bathe massacre (1997, 58 Dalits), in which 26 Ranvir Sena men were let off in 2013; the Miyanpur massacre (2000, 32 people, including Dalits), in which nine of the 10 accused were acquitted 13 years later; and the Nagari Bazaar massacre (1998, 10 persons, mostly Dalits), in which 11 accused walked free in 2013. The case related to Khairlanji massacre of four dalits in 2006, which had led to widespread protests in Maharashtra has gone the same way with the eight accused getting a lower sentence from the Nagpur High Court after a fast track court had punished six of the accused with capital punishment.
So, even before the recent SC judgment, dalits were rightly angry with a judicial process that was seen as unsympathetic and often hostile to them. The judgment appeared to exhibit a further drift away, and an acceptance of demands of other castes (like Marathas in Maharashtra) who have explicitly demanded scrapping of the law. And, the BJP govt.'s rule in the past 4 years has seen a spate of barbaric attacks on dalits, often in the name of 'cow protection' with most accused still free.
Dalit anger visible in the bandh and protests is unlikely to be assuaged merely by the fire fighting being done by BJP now. Too much time has passed and too many attacks have taken place for dalits to forgive the Sangh Parivar.
---