Students of the Centre for English Studies, JNU, release a statement in support of their former chairperson, Udaya Kumar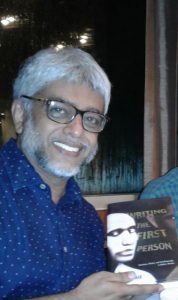 The Indian Cultural Forum has been closely following the developments at the Centre for English Studies, Jawaharlal Nehru University. We interviewed Dr Saitya Brata Das after he was denied his promotion to Professorship despite the support of the then Chairperson, Professor Udaya Kumar, and his adequate qualifications. Now, we learn that Dr Udaya Kumar, along with six other Deans and Chairpersons, has been removed from his post overnight, on March 16.
One of the members of our editorial collective received this statement from the students and alumni of the same Centre. Despite claims made by the JNU Registrar on Twitter that a small number of students protest regularly in front of the administration, the sheer number of signatories from one Centre shows that an overwhelming majority of the students and teachers of JNU stand against the JNU administration, a point Dr Das makes in one of the recent essays he has published with us.
Read the statement below. Also read Dr Saitya Brata Das' and Dr Soumyabrata Chowdhury's, and Dr H S Gill's regular dispatches. More essays by Dr Das here and here.
---
We, the undersigned students from Center for English Studies stand against the imposition of attendance policy that has been coercively implemented by the administration. This policy comes in the wake of a series of procedural violations – from seat cuts in MPhil/PhD across centres, removal of deprivation points, imposition of 100% viva-weightage in MPhil admissions and the manner of faculty appointments. These decisions have not been reflecting the actual conduct of the Academic Council meetings, where there has been a sustained opposition to these policy changes.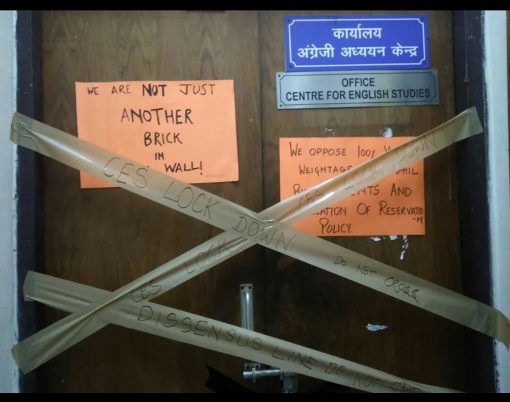 We outrightly reject the unethical removal of Professor Udaya Kumar as our Chairperson, as well as the removal of Deans and Chairpersons from other centers and schools who had been ethically and actively resisting these impositions from the university administration.
Aastha Dutta, Mphil
Bendangrenla S Longkumer, Provisional PhD
Chinmaya Lal Thakur, Mphil
Dipannita Ghosh, Mphil
Ena Dharker, Mphil
Ifrah Javaid, Mphil
Khoder al Khalifa, Provisional PhD
Komal Yadav, Mphil
Lawmsang Zuali, Mphil
Meenakshi Yadav, Provisional PhD
Moinak Banerjee, Mphil
Niborna Hazarika, Mphil
Prajakta Simon, Mphil
Rinjee Lama, Provisional PhD
Samudranil Gupta, Mphil
Shrimi Gupta, Mphil
Shweta Kumari, Mphil
Sneha Chowdhury, Mphil
Soumya Choudhury, Mphil
Sthira Bhattacharya, Mphil
Sumadhura Roy, Provisional PhD
Titas Bose, Mphil
Venkateswaran S, MPhil
Ankan Kazi, PhD
Sayan Chaudhuri, PhD
Asmita Kundu, PhD
Jomy Abraham, PhD
Rishi Thomas, MA
Naomi Jose, PhD
Shubhra Dubey, PhD
Shreya Prasad, MA
Swati Moitra, Alumnus
Swarnika Ahuja, MA
Mousumi Mandal, Deregistered PhD
Neha Kamrani, PhD
Indu Kumari, MA
Sanmitha Snehajan, MA
Unnati, MA
Santasil mallik, MA
Subhajit Pandit, Alumnus
Boudhayan Biswas, Provisional PhD
Choekyi Lhamo, MA
Zakariae Bouhmala, PhD
Bedatri Datta Choudhury, MA
Priyanka Basu, Alumnus
Preeti Singh, Alumnus
Aatreyee Ghosh, Phd
Fathima M, PhD
Saptarishi Chaudhuri, Alumnus
Rupali, PhD
Poulomi Bose, Alumnus
Matti War, PhD
Soumabrata Chatterjee, PhD
Mansi Tikoo, MA
Gourab Ghosh, Alumnus
Lily Tekseng, Provisional Phd
Abinash Rai, MA
Archana Vinod, MA
Aidan Wyatt Syiem, MA
Epshita Kanaujia, MA
Ishita Pasricha, MA
Swagath S Senan, MA
Aravind M, MA
Priyanjana Das, MA
Anupriya, MA
Parvathy Rajendran, Provisional PhD
Aalim Akhtar, MA
Khushboo Soni, Provisional PhD
Saheli Biswas, Provisional PhD
Sangeeta Kumari, PhD
Mahima Verma, MA
Greeshma Gireesh, PhD
Surjanshu Guha, PhD
Anindita Mukherjee, MA
Vanlalruati Chhun
thang, MASadhna Mishra, MA
Deborah Deka, MA
Khongbantabam Manileima, MA
Shinjini Basu, Alumnus
Ashmita Chatterjee, MA
Shubham Solanki, MA
Debaditya Bhattacharya, Alumnus
Greeshma Mohan, PhD
Divya Garg, Alumnus
Deeksha Yadav, Alumnus
Alex Joseph, MA
Sandhya Devesan Nambiar, Alumnus
CS Bhagya, Alumna
Sucheto Nath, MA
Archana Deka, PhD
Jigisha Bhattacharya, Alumna
Vrinda Sharma, MA
Akash Raha, PhD
Priyanka Das, PhD
Arpita Pandey, PhD
Gorvika Rao, Alumnus
Saronik Bosu, Alumnus
Srija Naskar, Alumnus
Salih Malol, Provisional PhD
Thayee Krishna, MA
Sharon Ann Philip, PhD
Amit Baishya, Alumnus
Soaham Mandal, PhD
Suresh Gaikwad, PhD
Girish Dahiya, PhD
Apoorva Dimri, MA
Apala Bhowmick, Alumna
Ajith Cherian, PhD
Debanjana Nayek, PhD
Anuj Gupta, Provisional Phd
Aditi Kumar, MA
Tapasya Narang, Alumna