JNU Students Launch #SuspendJohri Campaign Against Professor Accused of Sexual Harassment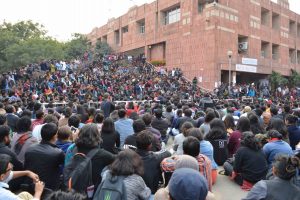 Nine women students have filed police complaints against Atul Johri, Professor at the School of Life Sciences, Jawaharlal Nehru University (JNU), accusing him of sexual harassment, abuse of power and sexual misconduct.
JNU students launched a Twitter campaign with the hashtag #SuspendJohri on Sunday evening, demanding action against Johri.
Students say Atul Johri is a man close to the RSS-backed JNU administration. He holds multiple offices at the University, being the Director of the University's Internal Quality Assurance Cell, the Director of the Human Resource Development Cell, and a hostel warden.
According to the JNU teachers who brought out a statement in solidarity with the students who filed the complaint, Johri is also the Vice-Chancellor's favourite nominee on several committees.
"We demand that Prof. Johri be immediately removed from all these positions, as the allegations against him bring great disrepute to the university. We expect the university to take all the requisite measures to investigate the charges that may be brought against Prof. Johri and to pursue them to their logical conclusion," said the statement signed by 58 teachers including CP Chandrasekhar, Jayati Ghosh, Ayesha Kidwai, Pratiksha Baxi, Nivedita Menon, Praveen Jha and Rajat Datta.
The complainants and the students of the School of Life Sciences (SLS) have demanded that Atul Johri, who has been charged under IPC 354 and IPC 509, should be arrested immediately. This is important because since he has not been suspended and since he continues to hold academic and administrative posts, he could interfere with the investigation by pressurising and intimidating the complainants.
"Recognising his position in power corridors and his efforts to interfere and tamper [with] evidence, it is important to immediately suspend and arrest Prof. Atul Johri," said the JNU Students Union (JNUSU) in a statement.
---