How Ngugi wa Thiongo was translated into Telugu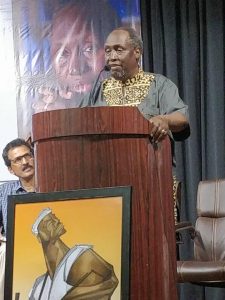 My relationship with the Kenyan writer, Ngugi wa Thiongo — who is now in exile in the US — spans over three decades and is worth recapitulating to make sense of the reader-writer association. My first acquaintance with his writing; my first letter to him and his hand-written response; my first meeting with him; his connections with the places and people I love; further correspondence with him in email and in person – all have a dramatic element to them.
The first time I heard Ngugi's name has a particular memorable characteristic. It was amidst several dramatic events. The famous Naxalite leader, Kondapalli Seetaramaiah, escaped from Osmania General Hospital, where he was under treatment as a prisoner, in January 1984. Consequentlt, there was a persecution of, and onslaught on, Naxalite sympathisers, mass organisations, and offices in Hyderabad. The then general secretary of the Radical Students Union (RSU), who was also the editor of its monthly organ, Radical March, was forced to go on exile. Later, I became associated with the journal. At the time, I was a member of RSU as a student of Osmania University, and was just thinking of leaving my MA to join a mainstream daily newspaper. Since the editor of Radical March, Dr M F Gopinath, a student of Osmania Medical College (the same hospital from which Seetaramaiah had escaped), had to go underground to avoid arrest, the RSU leadership asked me to take charge of the journal as working editor; consequently, my name started appearing from the February 1984 issue onwards.
As a result, I was completely cut off from the social circles of other students and trainee journalists, secluded in a den to read, write, and edit the news organ of the Radical Students Union. Within two months of this seclusion, by the summer of 1984, I fell into severe depression, and was almost on the verge of suicide. My friend, Mallojula Koteswar Rao, who would later become famous as Kishenji, was the then secretary of Andhra Pradesh State Committee of the Communist Party of India Marxist Leninist's (CPI-ML) Peoples War.
He came to know of my condition and sent a friend of his, L S N Murty — editor of Kranti, the fortnightly media organ of the AP State Committee of the Peoples War — to pull me out of depression and cheer me up. And he did just that, quite literally! L S N dragged me out of my "dungeon," where I'd been holed up so far, and took me to the pleasant green environs of Indira Park in Hyderabad. He gave me a thorough counseling for a couple of hours, recommending some readings he considered helpful, and gave me a copy of Devil on the Cross (1981-82), a novel by Ngugi wa Thiong'o. That was the first time I had ever heard the writer's name.
The novel completely transformed me, infused enormous optimism into me, and reaffirmed my commitment to the people's movements and life. The book indeed mesmerised me so much that I immediately wrote a 20 page letter to a friend, sharing my excitement about the book.
I shared my copy, already tattered, with all those to whom I had recommended the book. One of them was Varavara Rao, my maternal uncle. Due to other pressing preoccupations, he could not read it immediately. It was a year later, when he was in jail, that he finally read it.
Around the same time, K G Kannabiran, the famous civil liberties lawyer, also sent his copy of Ngugi's Detained – A Writer's Prison Diary (1981) to Varavara Rao. In prison, Varavara Rao not only found time to read and fall in love with Ngugi, but also set about translating both the books into Telugu. In every mulaaqat, he would update me about the progress of the translation, often asking me the meanings of the Gikuyu and Swahili words that used to be sprinkled in the original books. I got in touch with some Kenyan students in Hyderabad to to help him with the translations.
In the midst of reading, discussing, and thinking about Ngugi, I wrote a letter to him in March 1987, without knowing where he lived and what he did. I sent the letter to him, addressing to his publisher's office in London, since all the books I had read till then were published by Heinemann's as part of their African Writers Series. About a year later, in January 1988, I got a handwritten response from Ngugi.