Lest we forget, it's International WORKING Women's Day
The women's movement, since the beginning, has been an ally of the workers' movement. Women, as workers, and woman and workers, have a long history of standing by each other in demanding their rights.
Women's Day wasn't always celebrated on March 8. In fact, the first recorded women's day, then called the "National Women's Day," was observed in New York, United States of America on February 28, 1900, and was organised by the Socialist Party of America.
The following year, in August, 1910, delegates at the International Socialist Women's Conference agreed to start observing an International Women's Day, although no date was decided at the time. The idea was to use the day to promote equal rights for women, including suffrage for women.
It was in 1914, four years later, when the International Women's Day was celebrated on March 8, a practice that has, since then, continued. In Germany, the observance of the day was dedicated to women's right to vote, which women in Germany did not get until 1918. In England, too, a march was organised from Bow to Trafalgar square, in support of women's suffrage.
Three years later, on March 8, 1917, women textile workers began a demonstration in the Russian Empire's capital, Petrograd, covering the whole city. There were women in Saint Petersburg who went on strike demanding an end to World War I, to the food shortages in Russia, and an end of tzarism. This moment would eventually come to be seen as the starting point of the Russian Revolution.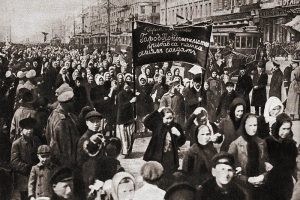 Much of this history has been forgotten, and Women's Day has been, more or less, subsumed under capitalism. At a time like this, it becomes even more important for women, the world over, to remember the history of the women's movement and its shared roots with the workers movement.