What Shambhu Lal Regar Said in His Latest Hate Videos Released from Inside Jail Cell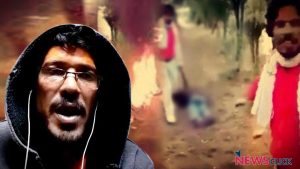 Shambhu Lal Regar, who is lodged in Jodhpur central prison for brutally killing Mohammad Afrazul Khan, has allegedly released two inflammatory videos from the high-security jail with an aim to vitiate the communal atmosphere of the state that is going to polls this year.
Wearing a hoodie, he has given out a hate-filled statement asking Hindus to unite against Jihadists, the Muslims. "I couldn't bear threats to Hindu women. I have ruined my life and I don't regret it," he can be heard as saying in one of the two videos.
After the hate video went viral on social on Sunday evening, the jail authorities searched the cell in which he is lodged but did not find any cell phone or internet device.
Regar, apparently reading a written script, greets people with "Vande Mataram, Jai Shri Ram and Bharat Mata Ki Jai" in the beginning of the video.
He can be seen saying, "Sathiyon, yeh mere jeevan ka aakhri sandesh hai. Main Jodhpur Central Jail se likh raha hun. Mujhe jail prashasan ne jail ki sabse surakshit cell men rakha hai…phir bhi kuch dinon baad ek Vasudev Brahman naam ka Pashchim Bengal nivasi ek apradhi meri cell me aaya aur mere saath rehne laga. Phir 2-3 din tak usne meri taraf dekha hi nahin…phir dheere dheere usne mujh se baat cheet chalu ki aur har samay Islam ki burai aur mere saath apnapan jatane laga. Uski baton se mujhe us par shak hone laga. Phir maine shauch ke waqt uska private parts dekha to dang rah gaya…kyunki uska khatna kiya hua tha…mujhe yaqin ho gaya ki woh brahmin nahin hai…woh jhoote farzi naam se nashele padarth ka wyapar karne mein Rajasthan mein pakra gaya."
(Friends, this is the last message of my life. I am writing from Jodhpur Central Jail. The prison administration has lodged me in the safest cell of the jail. Despite this, one Vasudev Brahman – an accused from West Bengal – came to my cell and began staying with me. He did not even turn towards me for two-three days. Then he began talking to me and tried to come close by showing concern and speaking against Islam. His words created doubt in me. I was surprised when I saw his private parts while relieving…he was circumcised. Now, I was confident that he is not a Brahmin…he was drug operator with a fake name who was arrested in Rajasthan).
Continuing his story, Regar further adds in the 2.22 minute video, "Yeh hai ek jihadi ki taqat jo itni suraksha ke baad bhi mere cell men pahunch gaya aur mujhe jaan se marne ki tayyari mein hai…par mujhe us se koi dar nahin hai. Agar woh dharma ke liye jaan de sakta hai to main bhi iske liye tayyar hun. Main apne mann ki bhawnayen aapke saamne rakhna chata hun. Mujhe is baat ki chinta hai ki inke dwara aur kisi ki zindagi barbaad nahin honi chahiye. Maine 22 saal pahle awaidh Bangladeshiyon ke saath rah kar inki jihadi soch ka adhyan har tarah se kiya hai. Jihad ka pura matlab dhoka hai…yeh hamara desh ke sare system aur har warg mein farzi dastawez banakar unmen ghus kar deemak ki tarah hamen andar se khokhla kar rahe hain…ve duniya ke dusre dharmon se alag hindu dharm hi unch neech, bharastachar, bhed bhav ke karan jihad rupi dhoke ka sabse asan shikar ho raha hai…hamare desh ko Islamic rashtra banane ke liye ek taraf Pakistani jihadi khula aatank macha rahe hain aur dusri taraf se hamein Bangladesh aur Rohingya jihadi milkar hamare saath dhoka kar rahe hain."
(This is the might of a Jihadist who despite such heavy security, has reached my cell and is preparing to eliminate me…but I am not scared at all. If he can lay his life for religion, I am also ready for it. I am sharing my feelings with you. I am concerned that others' lives are not spoiled by them. I have stayed with illegal Bangladeshis 22 years ago and studied how these Jihadists think. The whole definition of Jihad is fraud. They are weakening the country like termites by entering into the system with the help of forged documents. The Hindu religion, which is different from other religions across the world, is being easily targeted because of inequalities, corruption and discrimination. While, on one hand, the Pakistani Jihadists are spreading terror, on the other, the Bangladeshi and Rohingya Jihadists are cheating on us, with an aim to make our country an Islamic state.)
Regar, in another clip, purportedly launches into a tirade against Muslims again. He hails Prime Minister Narendra Modi, urges West Bengal Chief Minister Mamata Banerjee, "not to destroy the country" and asks people to forget differences to build a strong nation.
Shooting the video clips and releasing it from behind the bars raises serious questions on the security of the prison which is said to have a jammer for 2G network. But there is no arrangement to block 3G or 4G networks there.
The jail officials said they conducted a search soon after they got to know about the viral video but did not find any electronic device in his cell. "Once we are done with our inquiry, then only we will be able to make any comment on the matter," a senior officer told Newsclick.
Jail superintendent Vikram Singh said they are trying to find out the location where the video was shot. In addition, the person living with Regar has also been shifted to the other barrack.
Regar had hacked and then burnt to death Afrazul, a 48-year-old labourer from Malda in West Bengal, at Rajsamand in Rajasthan on December 6, accusing him of 'love jihad'.
The Rajasthan Police in its charge-sheet in the case has said "love jihad" was a smokescreen created by Regar to hide his illicit relationship with a woman, whom he called his sister.
Afrazul's widow Gulbahar Bibi has approached the Supreme Court, appealing for an impartial probe from an independent national agency and a complete ban on spreading hate videos of communal nature targeting a religious community and discriminating against it with an aim to encourage violence and creating a divide. He has also sought immediate removal of all such videos from internet and WhatsApp.
"The Respondent no. 1 (the Centre) is duty bound to ensure that the service providers do not upload the said videos which are a form of hate speech encouraging others to indulge in copycat crimes," said the petition.
Fixing April 2 as the next date of hearing, the apex court has asked the Central Bureau of Investigation (CBI) to seek instructions regarding all prayers except prayer number 3, which pertains to transfer of the case from Rajasthan to Malda in West Bengal.
---