Evidence Against Journalist in Kashmir Terror Funding Case Weak, NIA Says Accused Not Real Journalist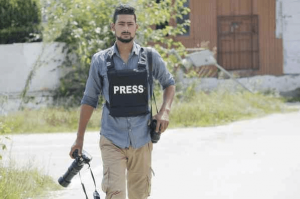 Kamran Yusuf, a Kashmiri photojournalist, was arrested by NIA in September last year on charges of stone-pelting and instigating violence. Additional Sessions Judge Tarun Saharawat heard Yusuf's bail application in the NIA Special Court in Delhi on Thursday. While the NIA has been delaying presenting the defence lawyers with crucial evidence they are citing as grounds for rejection of bail, they also alleged that Yusuf is not a bonafide journalist.
The NIA has declared Yusuf to be a threat to national security. But journalist groups in Kashmir as well as the International Federation of Journalists (IFJ) are calling this an attempt to gag the media and intimidate journalists.
Yusuf's advocate, Warisha Farasat, argued in court that the chargesheet alone does not show any strong evidence against the photojournalist, and is not grounds for rejection of bail. NIA has also presented statements of protected witnesses as a reason for denying bail. However, the NIA has refused to share these statements with the defence lawyers saying that since the identity of protected witnesses cannot be revealed, the law gives them authority to withhold these statements.
Farasat argued that they have the right to see these statements as they are the only basis on which the bail order is being reserved. The judge instructed the public prosecutor to provide the witness statements to the defence with adequate measures taken for protecting their identity.
NIA responded saying that certain procedures would have to be followed before these statements can be provided. The court has given them time till 19th February for the same. Otherwise, the bail order will be passed without consideration of the statements, looking at only the evidence given in the chargesheet.
The NIA then argued that looking at the kind of work Yusuf has done, he is not a bonafide journalist. They said that Yusuf only had photos and videos of stone-pelting and anti-India protests on his laptop.
In the chargesheet, the NIA has written, "Had he been a real journalist/stringer by profession, he may have performed one of the moral duty of a journalist which is to cover the activities and happening (good or bad) in his jurisdiction. He had never covered any developmental activity of any Government Department/Agency, any inauguration of Hospital, School Building, Road, Bridge, statement of political party in power or any other social/developmental activity by state government or Govt of India."
Responding to this, Farasat presented the judge with other events that Yusuf had covered, which are in line with NIA's "definition" of a journalist.
The chargesheet says that Kamran Yusuf was "found to be involved in several stone pelting incidents." The evidence cited for this allegation is that "some mobile numbers were persistently present located at places where counter-terrorist operations were in progress." The chargesheet also cites analysis of Whatsapp groups active in Jammu and Kashmir as further evidence.
Presence of Yusuf at stone pelting sites has been explained by Farasat as being part of his profession as a photojournalist. IFJ also said in their statement when Yusuf was arrested that, "photojournalists are required as part of their professional duty to be present at the places of protests and sit-ins and take photographs of these incidents, and such presence cannot be termed as participation in the incidents."
---