Having run out of items for its anti-India menu, OP India calls the Kerala Literature Festival 2018 anti-Indian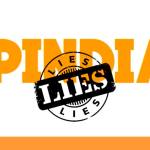 Having run out of items for its anti-India menu, OpIndia.com has called the Kerala Literature Festival (KLF) 2018 anti-Indian. The article, which has been posted by a "mlessp" (we're still googling to find out what that is) names Arundhati Roy, Ashis Nandy, Prakash Raj, Rajdeep Sardesai and Sagarika Ghose in interesting ways. Roy is a person who has called "India a Brahminical state which is oppressing Christians, Tribals, Sikhs and Muslims" (fact check: she is right). Nandy, the article claims, has called "Modi a clinical, classic case of a fascist" (fact check: he is correct).
One would expect writers to be concerned when other writers, journalists and scholars have been killed. "mlessp" has said that the speakers invited are anti-Modi and anti-India: "The literature festival is filled with anti-Modi and even anti-India figures who have called him all sorts of vile names." Fact check: the former is mostly true, but the latter, requires another fact check.
Anti-Modi does not always equal anti-India. In most cases, anti-Modi indeed equals the values India stands for.
We can argue for such a case, with select quotations from public statements made by Narendra Modi. In fact, the speakers that the article mentions have been vocal against the increasing intolerance, and communal hatred, and, attacks and murders of writers, artists and scholars in the country since Narendra Modi's government came to power in 2014.
This is what Githa Hariharan, one of the speakers at the event, said, when we contacted her, "This is clearly an indication that this event achieved something of what it set out to do."
The speakers also have been criticising the tendency of media to make Narendra Modi, a democratically elected prime minister, a figure who cannot be criticised. But Op India is hardly a credible news site. It has been pulled up by sites such as Alt News several times for claiming false facts. It is not a coincidence that these names have been repeatedly used by certain media like Op India and even by some in the some mainstream media to propagate the sentiment of Modi = India.
Using a byline such as "mlessp" also makes it difficult for us to understabd who the author really is!
Besides, "mlessp" has been particularly distressed by the fact that a cash strapped Air India had to sponsor such an event. Really, what a horrible thing to do. (S)he should perhaps write another article on the fact that Arun Jaitley had proposed to do away with Air India completely, and privatise the market completely?
The article in question also accused the Ministry of Tourism for "wasting the taxpayers money on an infamous gathering like this." "There are hundreds of dilapidated monuments in India which need attention. It would have been great if the ministry funded rejuvenation and maintenance of these monuments," it goes on to say. Extremely valid concerns, expect that the official list of sponsors (which the the article also shares) reveals that the sponsor is Ministry of Tourism of Kerala. We wonder if rejuvenating and maintaining the monuments all over the country is the responsibily of Kerala tourism? Op India might also hire a fact checker, but wait, what would he do in an office where people distort facts?
Having said that, is the author suggesting that dissent and critique of a democratically elected government should not be entertained? Never mind.