Narendra Modi Uvacha: What is the History of Karnataka for Modi?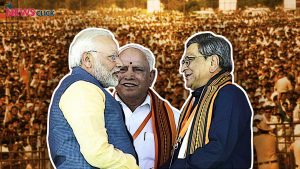 On 4 February 2018, Prime Minister Narendra Modi, addressed a large gathering during the concluding event of Parivartan Rally, in Bangalore. Bharatiya Janata Party's (BJP) 90-day long election campaign rally in Karnataka kicked off on 2 November 2017, with party president, Amit Shah, attending the flagging it off. While talking about the developments during the course of this election campaign rally, a source commented , "A party is expected to talk about its agenda for the election in a campaign, but this campaign is unique. BJP, in this rally, is only going to talk about how bad the Congress is." The concluding speech by the PM also reflected this observation.
Narendra Modi began his speech with the slogan "Bharat Mata Ki Jai"; beginning the address in Kannada, he said: "My salutations to my loved friends and sisters of Karnataka. Karnataka is the land of great personalities like Nadaprabhu Kempegowda , Mahatma Basaveshwar , Sharan Madar Chennaiah , Veera Rani Kittur Chennamma , Sangolli Rayanna , Sufi sant Shishunala Sharif , and Sir M Vishweshwaraya . Build Nava karnataka (New Karnataka), bring change by voting for BJP this election." Starting his speech in Kannada, Modi was greeted with a round of applause from the audience, who were seen carrying saffron flags. The crowd cheered and showered him with a round of applause after every time Modi mentioned another famous person's name.
One wonders whether the Prime Minister is even aware of the radical and revolutionary histories of these people. Besides, is he aware of the communal and anti-constitutional remarks made by his party members, which resulted in communal violence, not only in the state of Karnataka, but across the country?
Kempegowda, was a ruler who built Bangalore as a city. Basaveshwara, was a social reformer and philosopher of 12th century and the initiator of Vachana Chaluvali . Sharana Madara Chennaiah was associated with the radical Vachana Chaluvali in 12th century. Veera Rani Kittur Chennamma, was a female ruler who led an army against the British East India Company in 1824; Sangolli Rayanna was her army chief. Shishunala Sharif was a saint, poet, and a social reformer. A Bharat Ratna awardee, Sir M Vishweshwaraya was a renowned engineer and a scholar.
Kempegowda represents the making of Bangalore, and this, in turn, makes him very popular among the people of Karnataka. Basavanna and Madara Chennaiah represent the resistance against the Hindu Brahmanical social order. Their Vachana movement empowered the oppressed castes to fight against the injustices of the caste system. Kittur Rani Chennamma and Sangolli Rayanna are remembered for having made important contributions to the Indian Freedom Movement. The Bharat Ratna awardee, Sir M Vishweshwaraiah, was a renowned engineer and scholar who made important contributions to the development of science in Karnataka.
All these figures represent the secular and rational social fabric of the state. They show the long history of resistance and dissent that exists in the state. BJP, on the other hand, has fueled communal hatred and violence in the state. From the communal riots following the demolition of the Babri Masjid in 1992, to the Dakshina Kannada riots in 2017, BJP, along with RSS, has a history of fanning communal tensions for political gains. Dakshina Kannada was caught in a storm of communal riots following the politicisation of the death of Paresh Mesta . Rumours of his dead body being mutilated were spread in public meetings by the BJP members like Shobha Karandlaje and Anant Kumar Hegde.
Anant Kumar Hegde, a sworn Member of Parliament, while addressing a gathering in Koppal on 26 December 2017 (an event organised by a Brahmin organisation), made some shocking comments on secularism. He said, one has to be proud of their [caste] identity and not hide it, as secularism teaches us to. He also reportedly said that if BJP came to power, they would change the Constitution. This shows the BJP's views regarding minority religions.
Addressing Karnataka as the land that gave birth to the great personalities like Basavanna and Sharif is only an election tactic being used by the BJP to hide its communal agenda and policies (like beef ban) which is a representative of the party's cultural politics. This proves that Basavanna, Kempegowda, Chennaiah, and Sharif are mere pawns being used by the BJP to entice people and get votes.
Karnataka, indeed, is a land of all these personalities and many more. They are not merely names for the people of Karnataka. They represent the history of the state and also the role that the state has played in building a strong progressive movement.
Kempegowda did not build Bangalore only for the city to go up in flames as a result of communal riots (for example 1994 , 2015 ). Basavanna and Madara Chennaiah did not fight the orthodoxy only to give way to a society where asking questions could be fatal. They fought against the grammatical orthodoxy by writing and encouraging the commoners, irrespective of their caste, to write, resist, and dissent against the oppressive dominant order. Can the Karnataka that Basavanna and Chenaiah dreamt of forgive the killings of M M Kalburgi — a scholar whose scholarship on Vachana literature showed the difference between Lingayat Dharma and Hinduism — and Gauri Lankesh, a journalist who fought against the anti-social, anti-secular, and anti-constitutional deeds of the Sangh Parivar and BJP?
There is a dire need to remind BJP and Sangh Parivar of their own history. Golwalkar , Hedgewar and Savarkar are their ideological forefathers and patriarchs. Not only did they not make any contribution to the freedom struggle, they, in fact, sided with the British and tried to forward their own agenda of a Hindu Rashtra. Seen in this light, what does the fight of Kittur Rani Chennamma and Sangolli Rayanna against the British in 1824 mean to RSS and BJP? Nothing.
Listening to Modi begin his speech by invoking all these names, one would expect him to reflect on their lives and works; or, at least, talk about why these people are representative of BJP's own ideas and hopes for the state. It is not surprising that he did not do so. Some might argue that it was a political event, and a rally of a long election campaign; some might even rule out this exercise of dwelling on history. Continuing his anti-Congress tirade, Modi said that the Congress government kills those who are against it and crushes the voices of dissent. Meanwhile, he continued to hold his silence on the murders of M M Kalburgi and Gauri Lankesh, both of whom wrote extensively critiquing RSS, BJP, and their Hindutva ideology. Their deaths were celebrated by his party members and some of his followers.
A political event should not stop anyone, especially the Prime Minister of this country, from condemning the increasing communal hatred in the country. In fact it is the best platform for him to talk about the killings of Kalburgi and Gauri Lankesh. But, perhaps, Narendra Modi felt it was not necessary.
---