Pardon me, this isn't a story by Manto
One
It was an unfortunate evening — everything around had transformed into something else. He was just 19. He had dropped out of college to earn his living and had started to work with his elder brother and father in the port.
That evening, he was prepared to observe the rituals that one observes before visiting the Shabarimala Ayyappa Swami temple. The following morning, he parked his bike at the site where there had been a clash between two groups earlier. He left his home to the site to get his bike, but never returned.
His worried family started looking for him. On realising that it was impossible to track his whereabouts, they approached the police. Finally, they could not find him. Two days after he went missing, an un-recognised body was found in the river of the village. When the police examined the body, it was of the same boy who had gone missing. He who had drowned to death was on the shore and his family had drowned in the sea of tears.
Two
Those three people in the truck had never imagined something like this could happen. A few men on the road, at the outskirts of a village, had seen the driver of the truck and had decided his religious identity.
They stopped the truck and started to interrogate the driver — his name and other details – and then started beating him black and blue. The other two with him had somehow managed to escape from the site. The driver who was attacked also ran as fast as he could from the site but was attacked soon by a different group. The attackers started beating him with iron rods. They were about to torch him, but upon hearing people coming towards them, they fled the site, leaving the injured driver on the road.
He had managed to save his life for the second time that day. He was brutally injured and couldn't stand or move. He crawled up to a house of a brahmin family close by and pleaded for water. The family, on seeing his condition, mistook him for a mad man and offered him some water and food.
He was scared. He was hiding in a pit around this house for three days. The family was confused and he was scared. He learnt that the riot that had broken out in the village had ended and he felt safe enough to step out. The police took him to the hospital. His family had concluded that he was dead and the villagers had already lodged a complaint in the police station.
He is now with his family and he finally has managed to survive a brutal attack.
Three
I got a call at 11:53 PM. The person who had called me said, "They have surrounded our house. They are pelting stones on our house. The windows have all been broken. We are scared to go out and fight them. What should be done?'
What should be done?
The people who had surrounded their house were hurling abuses at them and also had said, "We have burnt the car of a policeman. We do not care about burning these people alive." This attack had begun early in the morning and went on till late midnight.
The person who had called me said, "We are here in this village for forty five years now. Our children were born here. We are very sad today. We feel like leaving this village for good. We think they are going to set us on fire. How can we escape? Where do we go? Where do we deposit the documents, money and gold we have in the house? What should be done madam?
What should be done?
A glass piece from the broken window had injured a six-month-old baby in the house. The mother of this baby was crying. The grandmother had no energy to utter words. The sister of the baby, who was now bored of being locked inside the house for the last five days was annoyed; she asks, "Why are you all crying? Why don't we go to the hospital? Why aren't you giving me my milk? Why shouldn't I go out and play? Why are they pelting stone on our house? What wrong have we done?" She kept asking such questions. And the mother asked me, "Tell us madam, what should be done?"
They knew each other since their childhood. They grew up together. There religious identities had till date not affected their friendship. They would attend the village fair and eat food available there. They would watch yakshagana together. They had learnt how to drive together. They had also eaten biriyani together and partied, several times.
For him, it is disheartening to see the very same friends attacking him and his family because of his religion. He is shaken and he asks, "Is this fair madam, isn't there anything called justice left? Could we file complaints on our friends? What should be done? "
It is a family without a patriarch. The single mother had struggled really hard and had saved some money to marry off her daughter. The wedding celebrations were due and were being organised in front of the temple close by. Relatives had started to force her to postpone the wedding and the groom's family had suggested that they would like to reconsider the match, as it was not a good omen.
She now had to take care of the expenses of the wedding, all over again. This worried mother asks me, "What should be done now madam?"
What should be done?
Please excuse me; this is not an excerpt from a story by Sadat Hasan Manto.
This actually happened. No one had anticipated something like this would happen till December 2017. Honnavar was a peaceful village. There never was any communal tension here. Our port was safe and nice, but not anymore. It is a violent sea that we see. We do not see a stop to this in the near future.
Who do we trust? Who do we not?
It is very hard to fix the broken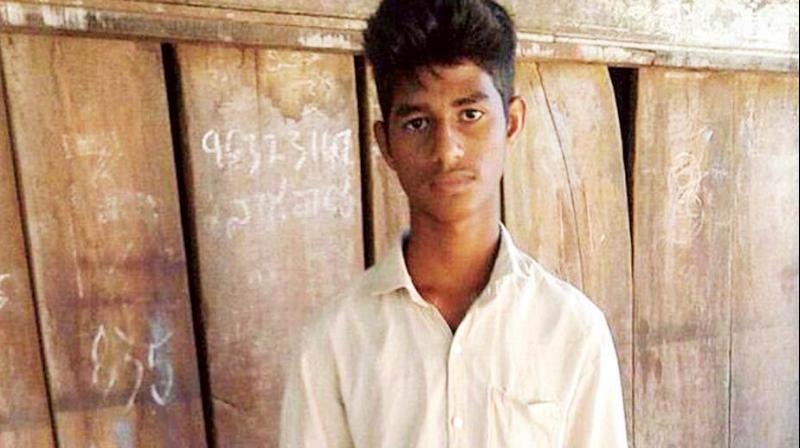 19-year-old Paresh Mesta/ Image courtesy Deccan Chronicle
We are all taken aback by the developments of last two week in the Northern Kannada district –Death of Paresh Mesta, a 19-year-old boy. His death was reported two days following another communal violence in the district.
19 is no age to die. His unfortunate death would sadden anybody, irrespective of who killed him and why they killed him. His family has lost its much loved son and also an earning hand. No compensation would help the family overcome the pain that this loss has caused. All that we can do now is, wish such incidents would not repeat themselves in the future. The murderers have to be arrested and punished, and make sure that the circumstances leading to his murder would not arise again.
On the one hand, we are saddened by the death of Paresh; and on the other hand, instead of mourning his death, by succumbing to the rumors being circulated in internet, people have taken to violence. Those who are mourning his death are also enraged and are destroying public property and are accusing the people of other religion for his death.
Even small villages have started to become communal. We are also hearing news reporting inhuman attacks. It is always very easy to break things, but what is hard is making them.
The responsibility of maintaining communal harmony rests with every responsible citizen. We wish the communal harmony that existed in the scenic Uttara Kannada district is restored and this should be the goal of all those in the seats of power irrespective of the difference among the parties that they are affiliated to.
Let us join our hands,
It is our new world,
Mine — yours, theirs and ours
It is a new world for everyone.
---
First published in Bhoomibalaga; translated from the Kannada by Yogesh S.