When I was invited to The Bhopal Jan Utsav, the first thought that came to my mind was of visiting Itarsi, a town that is a mere 2 hour-train journey away from Bhopal. It is one of the largest railway junctions in the country. Surrounded by forest areas, Itarsi has a large tribal population.
I have been regularly visiting the town for the last two decades, particularly because of Rajesh Parashar, who lives in Itarsi. Rajesh is a dedicated man, teaching science in a tribal school at Khesla. He has refused transfers and promotions, choosing to stay on at Itarsi because he feels it is his duty to improve the lives of the tribal children. Itarsi's tribal culture is worth being preserved. But some aspects of this culture, like the local witch doctors (called padeyars), lead to their exploitation, because of the people's innocence (or rather, their ignorance). The padeyars use this to their advantage, and link every mishap in the tribals' lives to some evil spirit, who can be propitiated (according to the padeyars) through some ritual or the other.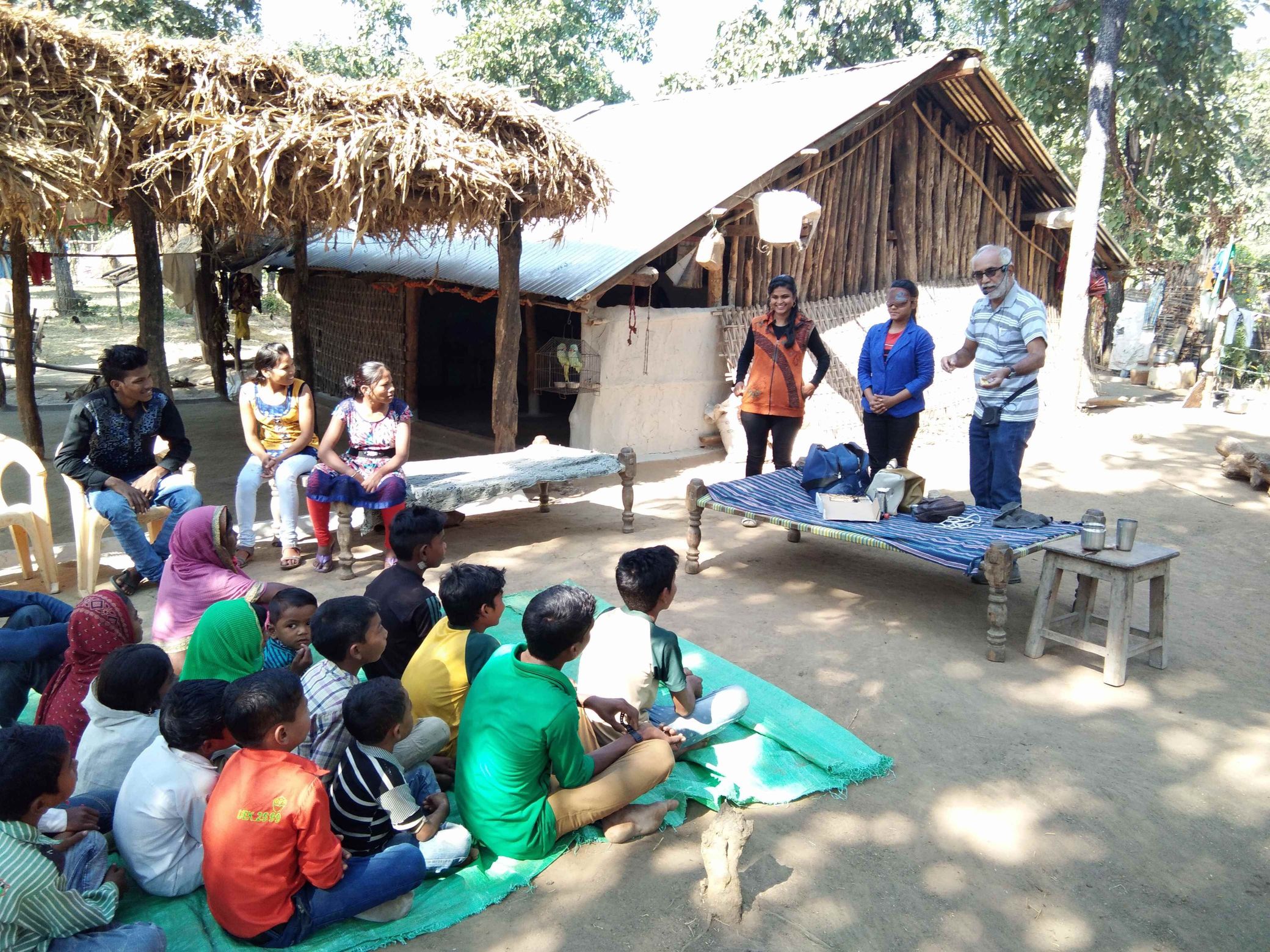 Image Courtesy: Narendra Nayak

The padeyars perform various "miracles" to convince the people of their supernatural powers. Rajesh and I, through our work in Itarsi, aim to expose the tricks that these padeyars use, and to show how they are simply trying to cheat the people. Nowadays, the padeyars (who also go by the name of "midbrain activators") have also made forays into semi-urban and urban areas!
I am reminded of another case of such exploitation by padeyars that I had come across. It was in a place close to Itarsi, called Betul. I had been invited there by the Government of Madhya Pradesh to conduct some workshops, on having a scientific temper, for the tribals. During my free time, I used to go to the nearby villages to interact with people. On one such visit, when it was time for the question-answer round, I threw an open challenge to their village tantric or ojha (or whatever name he went by). The crowd immediately pointed out the man in question, forcing him to respond to the challenge. He reacted by saying that he was just a good man trying to help the villagers without taking anything in return for his labours. This resulted in an indignant outburst from the crowd. One man got up and asked accusatorily, "You don't take anything?! Who ate my goat then?" Yet another one got up and claimed that the tantric had taken five hundred rupees and two hens, promising to cure his knee pain, which was still as painful as ever. The result of these, and other such revelations, was that the tantric had to flee the scene!
This time, I planned to visit Itarsi before the Bhopal Jan Utsav. On my first day, I held demonstrations in a middle school, in a place called Morpani. I wasn't particularly happy as I felt that the small space limited the participation to the older children (who were above 10) and the parents (who lived nearby). However, I was happy about the workshop because all the participants listened with rapt attention for the entire duration of 90 minutes. When it was over, most of the questions I received were about the local witch doctors (some called them padeyars, others called them mantriks). They recounted several incidents where they had been fooled by such people. The school teachers also pointed out that, often, children suffering from ailments were taken to such self-styled "doctors." These treatments could take anywhere between several days to weeks. The people would end up being cheated out of huge amounts of money in exchange for a treatment that didn't even work.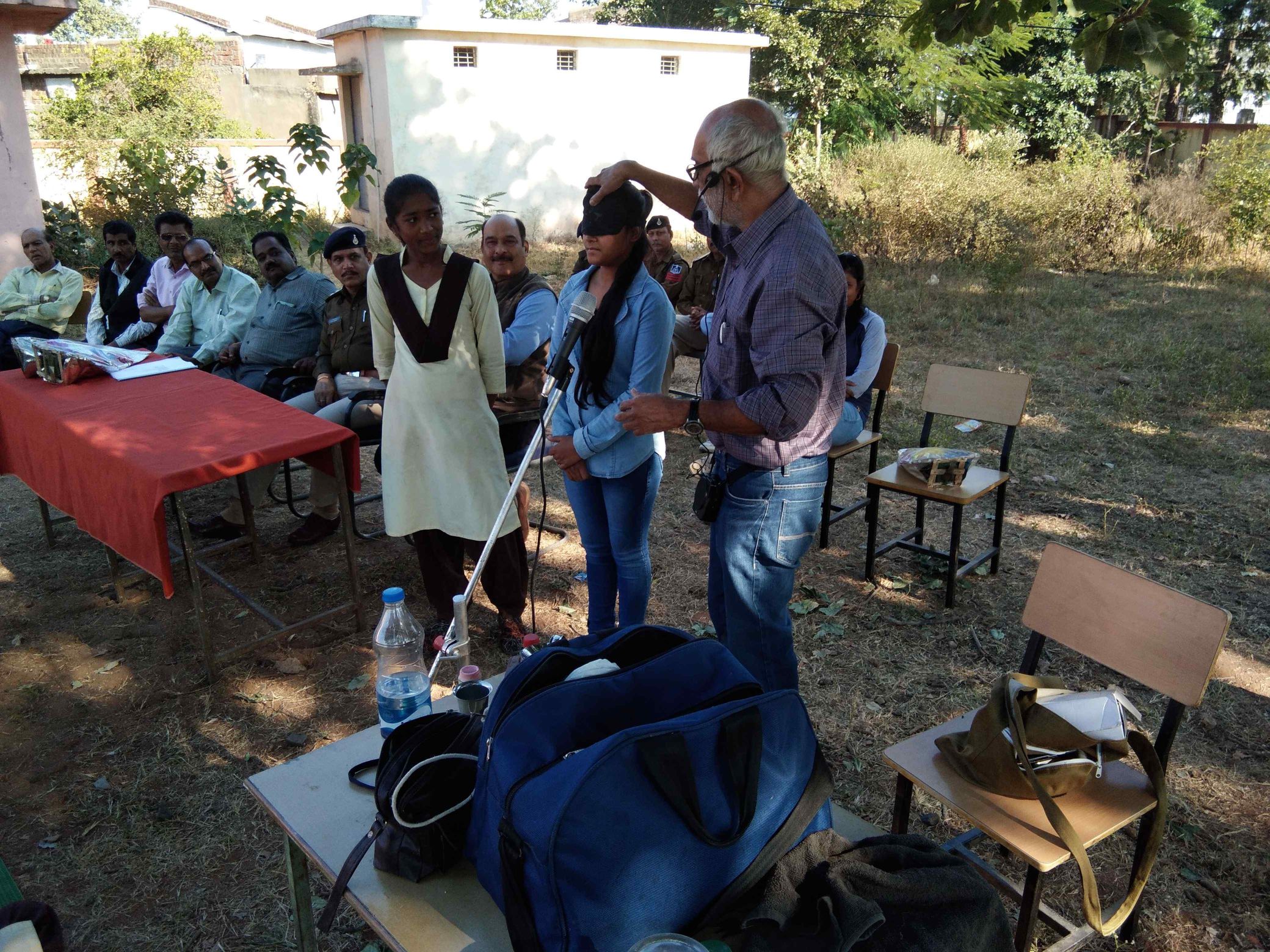 Image Courtesy: Narendra Nayak

This was followed by an interactive session at the tribal school in Khesla, where Rajesh Parashar teaches. The SDPO, Sri Arun Sharma, was the chief guest. This session involved students from thee different schools, and the interactions were enthusiastic and lively. The session had included a number of demonstrations, including one on "blindfolded seeing" that is linked to "midbrain activation." We trained two women, Sarika and Ashi, to conduct these workshops on their own. Both of them were very supportive and enthusiastic about debunking the midbrain activation fraud. These "midbrain activators" promise to make supergeniuses out of the children, assuring the parents that their children will even become capable of "seeing" when blindfolded. This racket has been particularly prevalent in Madhya Pradesh and Chhattisgarh, even in the large villages, for quite some time now.
In fact, two years ago, a press meet had been called specifically to debunk this activity, against which we had also led a campaign. The meet had almost resulted in violence because of the presence of these "midbrain activation" scammers, who were incensed after the session exposed their tricks. I was almost beaten up by one of them.
Anyway, on my second day in Itarsi, we went to a newly formed village called Mana. It is a resettlement village given to the tribals displaced from the Satpura Tiger Reserve. We spoke to them about how these witch doctors are actually scammers who cheat them of their compensation money by promising high returns. We held a workshop, exposing the tricks that were used by these scammers to make the villagers believe in black magic and ghosts. We also exposed the tricks used by men looking to convert people to their "faith."
On our way back to Itarsi, we went to a Secondary Boys Hostel at Jamani. The warden of the hostel had the same complain to make as the school teachers at Morpani, i.e., whenever any of the boys in the hostel fell ill, their parents would come and take them to the padeyars for treatment.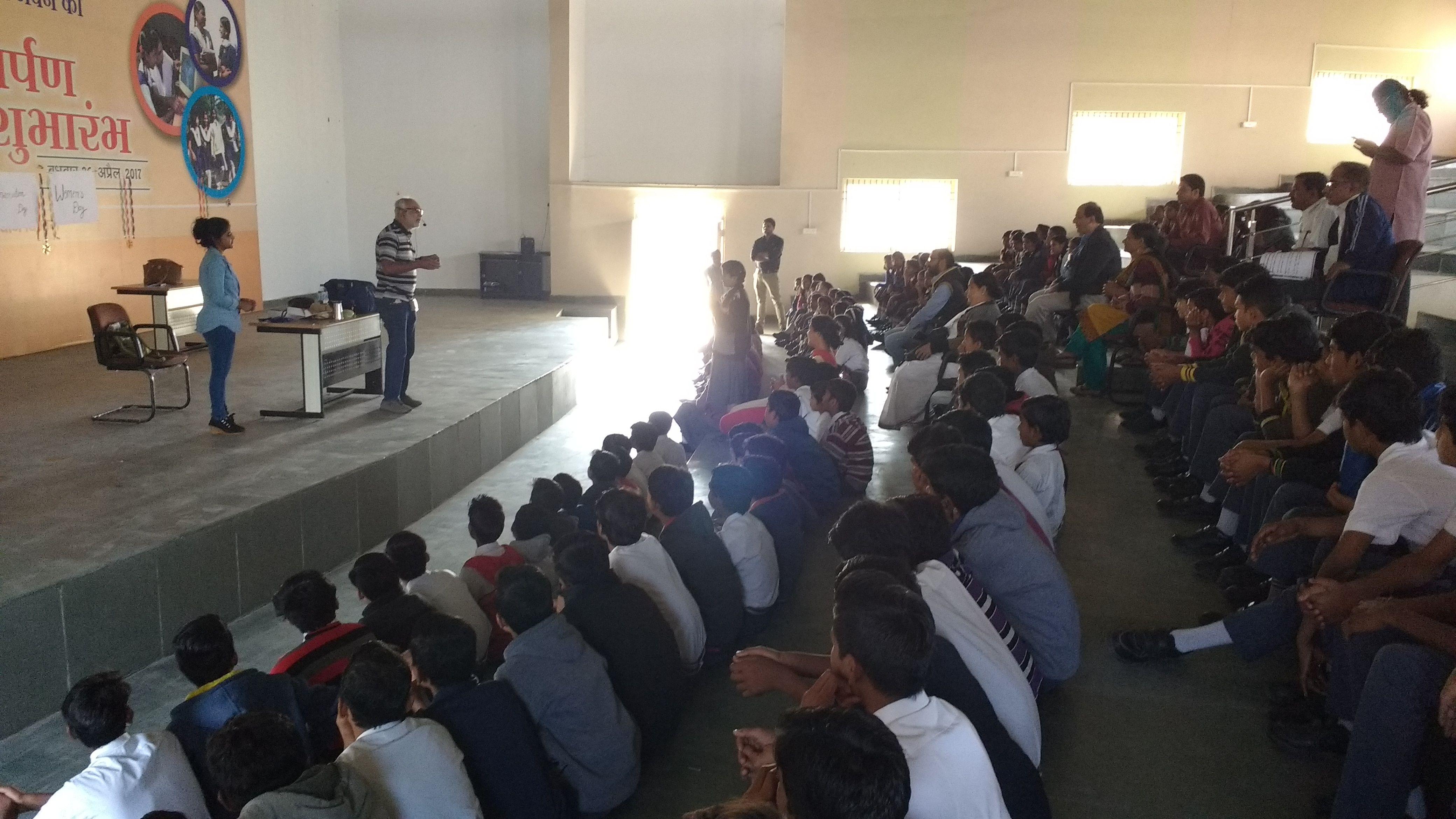 Image Courtesy: Narendra Nayak

After this, it was time for me to go to Bhopal for the Jan Utsav. I had some time to spare between the two sessions I was hosting there. So, I chose to visit the children in a residential school nearby, for tribals, called Gurukul. The students there were highly interactive and intelligent. We demonstrated many tricks in front of them, including the "blindfolded seeing" used by the "midbrain activators". The students' main grouse was against the so called healers who were using tricks to convince people of their supernatural powers. The children were particularly concerned because their parents, and grandparents, were completely taken in by these healers. As a result, even the children found it difficult to resist them. This was particularly true when the children were forcefully taken to these healers for treatment.