JNU Registrar Pramod Kumar has recently issued a circular stating that the university's existing Gender Sensitisation Committee Against Sexual Harassment (GSCASH) be replaced by an Internal Complaints Committee (ICC). The Registrar has also stated that the election to GSCASH be kept on hold until further notice. The letter is attached below: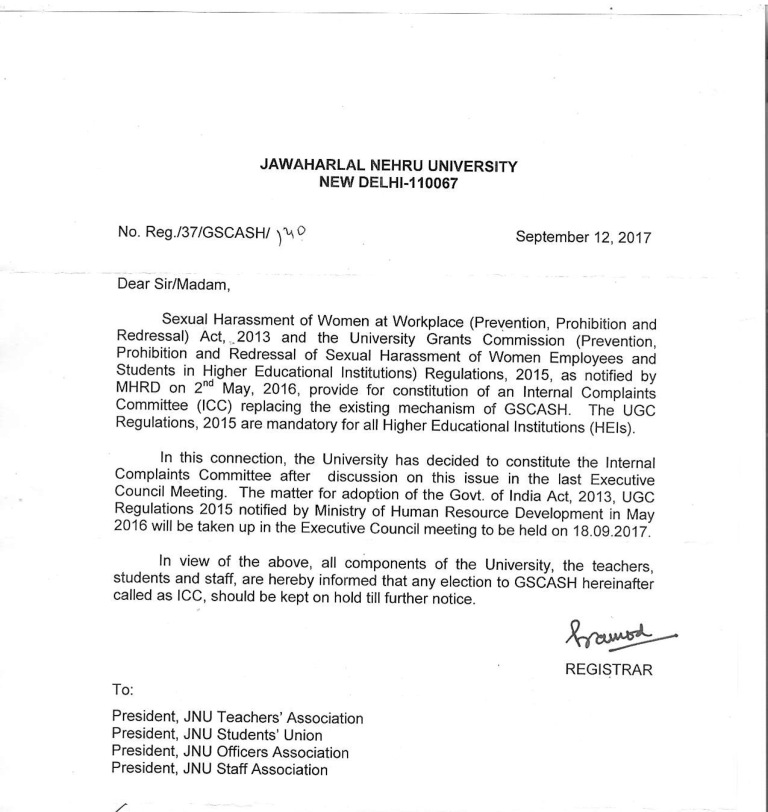 Modelled on the well-known Vishakha Judgement issued by the Supreme Court of India (1997) for the prevention and deterrence of sexual harassment in the workplace, the GSCASH was set up in the year 1999, and was the result of a consolidated and persistent struggle by the teachers and students of JNU to secure a gender-just JNU community. President of JNU Teachers' Association Ayesha Kidwai, who has also been associated with GSCASH for three terms, says that, "The struggle gained momentum after a mentally challenged student was incarcerated and brutally raped by a non-teaching staff on campus. The student was cared for, equally, by both students and teachers of JNU". In the wake of this incident, intensive discussions and workshops were held on campus to create awareness about sexual harassment. The decision to elect teachers and student representatives was taken after this incident.
GSCASH is an autonomous body comprising democratically elected teaching, non-teaching and student representatives and is totally compliant with the UGC regulation of 2015 for the prevention of sexual harassment in university campuses. The Internal Complaints Committee, which is an agenda item for the Executive Council Meeting slated to be held on 18 September, 2017, on the other hand, will comprise three nominated faculty, two nominated non-teaching staff, and three elected student representatives. We are of the opinion that nomination, instead of election, will severely weaken the autonomy of the body and undermine the spirit of democracy, equality and most importantly, justice, which the GSCASH has upheld so far.
The JNU administration, under Mamidala Jagadesh Kumar, must note that nomination in ICC will automatically lead to the creation of positions of power within the body; further installing hierarchies and imbalance of power in a body that is supposed to remain unanimously impartial to ensure justice in cases of sexual harassment. This might further deter those whose rights any committee against sexual harassment aims to protect in the university, those who are often victims of abuse of power, from filing complaints against sexual harassment.
The Indian Cultural Forum unequivocally condemns the JNU administration's decision to replace GSCASH with ICC, undermining JNU's long-standing struggle for a gender-just community.
---