Condemn the Brutal Murder of Gauri Lankesh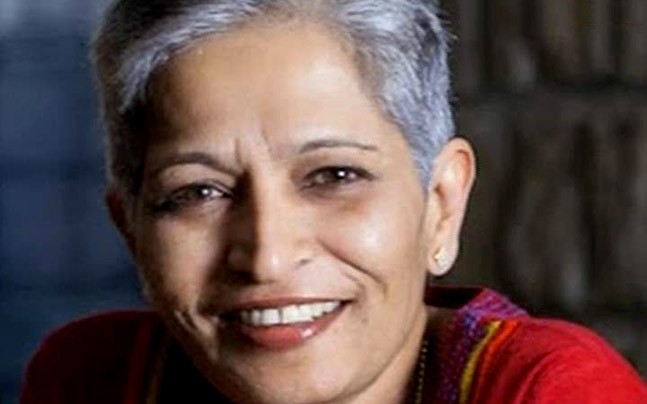 Well known Kanada journalist Gauri Lankesh was murdered outside her house in Bangaluru on 5th September. The murder seems have follwed the same pattern as the murder of Prof MM Kalburgi in 2015, the killers came on a two wheeler, and without any warning shot her dead at point blank. Spontaneous protests against the Gauri's assaissnation were held next day in many parts of Karanataka, and in many cities outside. Lankesh was a trenchant critic of Hindutva politics and did not mince words in her writings against its majoritarian authoritarianism. Fifteeen defamation cases were filed against her in different courts of Karnataka, but these did not stop her from writing and expressing her opposition to communalism. She was also a tireless campaigner against caste and gender inequalities, and never hesitated in speaking truth to the power. Even though she collaborated with the Congress government of the state in trying to get Naxal cadre give up armed struggle, this did not prevent her from criticising the state government whenever she felt it violated its constitutional mandate. Lately, in her writings and speeches she had expressed extreme concern over how Karnataka, especially its coastal areas, were turning into a laboratory for Hindutva. Courage, commitment and honesty defined her work as a jounalist and a public intellectual of Karnataka.
Lankesh came from the rational, secular and progressive tradition of India. After murders of anti-superstition activist Dabholkar, CPI member and trade unionist Govind Panasare, and Prof Kalburgi in the last four years, hers is the fourth one of a staunch secularist opposed to majority communalism being killed in open daylight. It is now clear that a terrorist conspiracy is underway to kill important public itellectuals who are part of secular campaigns. The purpose of this conspiracy is to instill fear, and create a public environment in which ordinary Indians hesitate to express any opposition to the Hidutva politics.
The murder of Gauri Lankesh raises a number issues about which all Indians should be concerned. First, even after four years of the murder of Dr Dabholhar, his killers are at large. The same is true with regard to killers of Dr Panasare and Prof Kalburgi. There is some forensic evidence that all three crimes were committed by the same group. An activist of one Sanatan Sanstha was even arrested, but there has been little progress in these cases. Such a state of affairs not only points towards professional incompetence of investigating agencies, but also raises a doubt that elements inside these agencies may be shielding criminals. After all, public prosecutor Rohini Salian in the Malegaon blast case has publicly said that the NIA was putting pressure to go soft on the accused. It is significant that Col Purohit, an accused in that case recently managed to get bail from the Supreme Court. The degradation of criminal justice system, and systemic bias in favour of one set of criminals will destroy the foundation of rule of law in the country.
Second, all facets of Hindutva politics need to be exposed. Its campaigns of vilification, hatred and violence against selected targets are aimed at destroying any possibility of open public discourse in the society. All these are classic fascist tricks. The kind of trolls its followers send on social media against any one opposed to their poltics will be considered not only uncivilised, but downright barbaric in any decent society. It is widely known that many twitter handles which gloated after the murder of Gouri Lankesh are followed by ministers of the BJP government. The BJP has come out with a statement that following a handle does not amount to 'giving a character certificate'. However, the people of India have a right to ask why these state functionaries follow venom spewing twitter handles. The BJP ministers are actually indulging in dog whistle politics. By following hatred spewing handles they give them their silent approval. On the other hand they also issue public statements condemning vilification campaigns. It is high time people of India see through the duplicitous politics the BJP is playing with them.
Third, Hindutva is a political project, and it is essential that it be defeated politically. Unfotunatley for India, despite nearly seventy years of electoral democracy the political opposition to Hinduvta is extremely weak. Corruption, nepotism and narrow identity politics have delegimised almost all opposition parties. However, the stark choice before the people of India is the limited democracy they have at the moment, or no democracy at all. Democracy can not coexist with violent campaigns against selected citizens. People like Gouri Lankesh, Prof Kalburgi, and Drs Dabholkar and Panasare, who courageously questioned all customs and practices that violate fundamental rights of citizens, are essential for democracy. People of India have to defeat terorrist conspirators behind their muders.
People's Alliance of Democracy and Seculasrism demands that the police and investigaing agencies catch the killers of Gauri Lankesh at the earliest. Any organisation behind the criminal conspiracy of murdering Dr Dabholkar, Dr Panasare, Prof Kalburgi and Ms Lankesh be exposed and made to face the law of the land. Only then the diabolical sequence of premeditated attacks on rationalists and secualrists will be brought to an end.