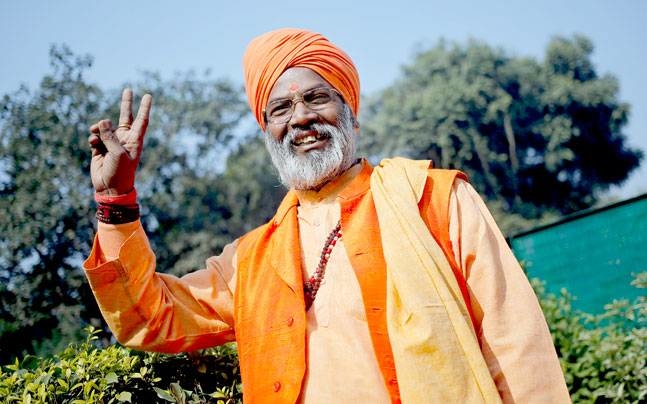 "One person has complained of rape against Ram Rahim. Crores others believed him as God. Who do you think is right?" Sakshi Maharaj said, alleging a "conspiracy to defame not only Ram Rahim and other saints, but also Indian culture."
BJP MP Sakshi Maharaj made this statement in defence of Baba Ram Rahim, who was convicted in a rape case yesterday. The question need to be asked is, who is the Maharaj really defending? Baba Ram Rahim or himself?
Swami Sachidanand Hari, popularly known as Sakshi Maharaj, has had similar allegations of rape and murder charges on him as Baba Ram Rahim. Maharaj has a total of 34 criminal charges levelled against him, with trials ongoing. While one of the murder charges is still being debated in court, the gang-rape charges were dropped due to lack of evidence.
Like Ram Rahim, Sakshi Maharaj's political alliances are well known. He is currently a Member of Parliament under the Bharatiya Janata Party. He became a prominent face for Hindutva due to his involvement in the Ram Janmabhoomi movement. The trial for his involvement in the Babri Masjid demolition is still ongoing. The only time he broke away from BJP was when he was refused a party ticket to contest elections from Farrukhabad in Uttar Pradesh. Maharaj explained that he broke off from BJP and accused that the party's policies were unfavourable to the poorer and backward sections of the society. He later contested as a Samajwadi Party candidate. During that time he was also accused of murder of Brahmdutt Dwivedi , a BJP MLA who also hailed from Farrukhabad. However, the charges were again dropped, due to lack of evidence.
The Maharaj was suspended from Rajya Sabha in 2006 on corruption charges. A sting operation revealed that he had been misusing MPLADS (Members of Parliament Local Area Development Scheme) funds. Star News, who carried out the sting, had claimed that its reporters were able to gain assurance from Sakshi that he would provide money to a fictitious NGO for a "commission".
Sakshi, the director of Sakshi Maharaj Group, under which he owns and operates 16 educational institutions and 44 ashrams across the country. In 2008, Maharaj was again found guilty of misappropriation of MP funds . He had granted Rs 25 lakh to a college he owned himself, even though the documents relating to the institute were found invalid.
Despite multiple serious criminal charges, Maharaj not only continues to be a Member of Parliament, he also successfully operates his own religious movement through the numerous educational institutes and ashrams he owns. His political power gives him the funds for his religious operations, and his huge fan following keeps him in political power. He is the most conspicuous result of the nexus between godmen and government. One of his institutions, Ma Madalsa Vidyalaya, was donated to the RSS.
Maharaj is perhaps known best for his reputation of controversial remarks and statements. From blaming Muslims for India's population problem to saying cow slaughter should be punished with a death penalty or calling Godse a martyr , Maharaj has gotten away with it all. Although multiple charges of hateful speech have been imposed on him, it hasn't done much to affect his political support.
Like most godmen, Maharaj is too big to be held accountable by the legal institutions of this country. There have been reports of a rape case being quashed by the police in Farrukhabad. The allegations were made by a disciple of his ashram. She still maintains that Maharaj took advantage of her and raped her in the ashram. When the case went to court, the police filed a report saying there hadn't been any rape. Maharaj also has been reported of booth capturing during the elections, when he has been seen going around in a caravan of vehicles with armed guards to capture booths. Even after his weapons were seized, Maharaj won the seat.
The rise of the godmen brings forth a disturbing picture of powerful men who are beyond the reach of the law and the government. These godmen can switch their allegiances with political parties if any dispute arises, and maintain their power. Along with their switch, they also take with them their horde of supporters to a different political base. This makes the government too afraid to take any stringent measures against these men. With men of the likes of the Maharaj, Baba Ram Rahim, Ramdev, etc having such a powerful band of followers, the question of who really runs the government becomes a pertinent one.

---