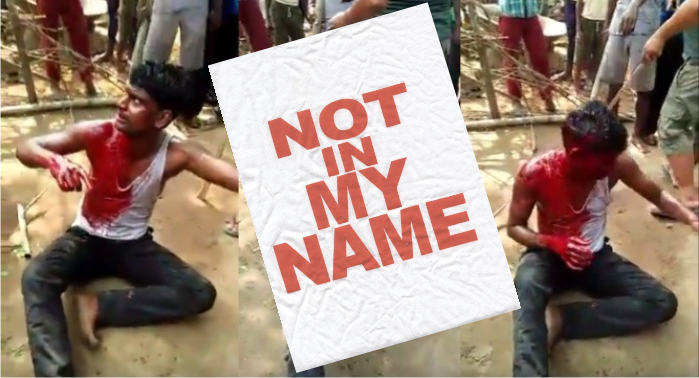 Finally, Indians, right thinking ones at least, not the 31 per cent who remain bhakts who are either blinded by the evil in our midst or thrive on India turning into a 'Lynch republic', are angry enough to take to the streets. It took some time coming, but it has happened. Today, Wednesday June 28 public outrage and protest will be expressed at 12 cities in India and abroad against the hate crimes, lynchings and murders of innocent Indians, most of whom are Muslims, some Dalits, since the new government took office in May 2014. Since Sunday, June 25, Prem Singh has been sitting on a hunger fast at Jan Path to protest 'his grief and guilt' at the killings of innocents.
The protests are welcome, the assertion in the public sphere long, long overdue. As we gear up to participate – and hopefully intensify the protests – let us also do a little bit more. Let us, unequivocally condemn Mob Terror in the same breath and with the same intensity as Bomb Terror.
For years now, since distributions of trishuls through trishul diksha programmes, since violent arms trainings by the RSS and Bajrang Dal, since the terror unleashed by the Mobs on the Street – ever available at the blow of the metamorphical whistle – be it the Mob that lynched Christians (there were over 75 attacks between 1999 and 2002 documented by the All India Christian Union and published by Communalism Combat) or the Mob that attacked Naroda Patiya or Gulberg Society or Odh or Sardarpura villages (Gujarat 2002) or the Mob terror unleashed in Muzaffarnagar, Shamli, Baghpat and Meerut (September 2013) – we have been arguing, with and to the political class and law enforcement agencies: treat Mob terror and Bomb Terror on Par. Do not look at these equally debilitating and vicious kinds of violence that impact innocent lives, differently.
The recent brute attacks, in the name of gau atankwaad, that began with Mohammad Akhlaq in September 2015, 15 months after the Modi Sarkar took office, and have continued in different geographical locations, since. Most if not are Muslims, some Dalits.
But even before that, let's not forget Trilokpuri and Bawana. They were not the incidents of individual lynchings that began with the killings of Akhlaq but within months of Modi taking oath, in the November of 2014, it was a sorry and tense Moharram for our Muslim brethren to commemorate in the nation's capital. This author had then written (Rashtriya Sahara) that it was only an all night vigil by pro-active citizens all over Delhi and the country had kept a tight leash and control on the capital's police and security apparatus that was quite simply not allowed to slacken it's vigil on the week end post Diwali.
Few questions were asked about why the 'Mata ki Chowkey' that had mysteriously been inspired by the 'Swaach Bharat' campaign and come up not anywhere in the rest of Trilokpuri but in a spot where a Masjid existed, a very old Masjid for over four decades. This chowkey committed to being removed by Dussehra, brazenly stayed on and on and a jagran was planned and allowed on October 31 the Jumma before Moharram. The fact that Moharram and the customary Tazia procession passed off peacefully on November 4 was in large measure due to the steps taken by the local communities of Muslims and Hindus and most especially for activists across Delhi who stepped in, keeping a vigil. In short, police or no police, Central government of whichever due, the committed secular janata of Delhi brokered the peace. Salaam and Saluts.
No thanks to the government, however. The party in power at the Centre shameless brokers in hatred continued to up the ante since the Delhi state polls had been announced. We witnessed in November 2014 and continue to witness a steadfast re-writing of history and a legitimization of irrationality and bigotry that has captured the imagination of a karava chowth celebrating upwardly mobile generation.
Coming back to the burning embers at Trilokpuri. One of the rabid wings of the ruling BJP is the Vishwa Hindu Parishad/Bajrang Dal and the Bajrang Dal which had been circulating a pamphlet widely in Delhi 'warning of terror attacks (read Muslim) against temples in the capitals. Today in place of pamphlets it is hate-ridden, irrational What's App messages that are circulated to generate jaan and josh for the Mob to act. The Delhi police did not have to answer for why it allowed the Mahapanchayat that Friday, in November 2014, a gathering that was sickening to read about because the speeches and venom spewed by elected representatives are clearly violative of the law (read Bawana, Mussalmaan aur Mahapanchayat at www.sabrang.com) . Just days before the Mahapanchayat, police behavior in certain blocks of Trilokpuri was illegal and barbaric, boys (largely Muslim but also some Valmikis) were thrashed in daylight searches as the women wept, screamed and watched. An eye witness account of a journalist present on our website (sabrang.com) is horrific. In the arrests and detentions, predictably were a disproportionate number of Muslims.
At the time of the low intensity but vicious Trilokpuri and Bawana violence in the nation's capital – a precursor to the individual and horrific lynchings we speculated on how, after coming to power, the sangh and its well trained mob cadres will resort to this kind of violence not the Gujarat 2002 or Muzaffarnagar 2013 kind. Little were we to know, then, that individual mob lynchings and acts of targeted Mob Terror would be the New Weapon in the Sangh's ever ready Armour.
Many or most of the most victims of the brute attacks post 2014 –mob terror lynchings or shottings –were killed, but there were others who were traumatised by injury. Salma, was brutally thrashed for her bag of buffalo meat at Mandsaur railway station in Madhya Pradesh in 2016. One survivor, Manish Mandal, was beaten so badly that he lost his eye for daring to honk loudly to clear cattle on a Bihar road?
These are not the only ones. Sabrangindia has been tracking lynch killings from Jharkand and Manipur which have gone un-reported in the English media. (Mob Violence in Manipur: An Aberration or an Erosion of Syncretism?). Even as the incident of the killing of 15 year old Junaid has drawn out people to protest, the cold blooded shooting to death, by men in uniform of 24 year old Mohammad Salman just after the family returned from the Alvida Jumma Namaz (the last Friday prayer in the month of Ramzan) has not drawn any criticism (Another Bloody Killing on the Eve of Eid, Policemen Allegedly Shoot Dead Mohd Salman (24), Arms Guard Confesses to Crime, Arrested: Chatra, Jharkand).
We had barely recovered from the brute lynching of dairy farmer Pehlu Khan in April 2017 when Zafar Hussain Khan, a political activist of the CPIML was brutally killed—instigated by the Nagarpalika chief Ashok Jain –for preventing the exploitation of women being photographed while defecating, an enterprise of the Swacch Bharat Campaign. Zafar's killing on June 16 this year was also swallowed by us all, in relative silence.
Even faraway Manipur has not been immune, the hatred spread by insidious propaganda has reached even there: The brutal mob lynching of six Muslims (locally known as Pangals) in Manipur on March 25, 2016 who went to watch Thabal Chongba (Moonlight Dance) in connection to Yaoshang (Holi) festival, deserves the severest condemnation because of the very nature of the act. Barely a fortnight later, again, on April 7, 2016, three Muslim youths were brutally beaten up at Mayang Imphal Yangbi Garden of Imphal West district. Two of them were died in the lynching and a third was critically injured.
As many of 97% of these attacks were reported after Prime Minister Narendra Modi's government came to power in May 2014, and about half the cow-related violence–32 of 63 cases–were from states governed by the Bharatiya Janata Party (BJP) when the attacks were reported, revealed our analysis of violence recorded until June 25, 2017.
While the public flogging of Ramesh, Ashok, Vashram, Bechar and three others Gujarat's Una block last July drew the normally hyper-communicative prime minister to speak (and even then chief minister, Anandibehn Patel) to resign (remember Gujarat goes to the polls in late 2017), the brute killings by hanging of Mohammed Mazlum Ansari and his 14-year-old nephew, Mohammed Imteyaz Khan, found hanging on a tree in Jharkhand's Latehar Balumath block drew no condemnation from the otherwise communicative head of government.
Why then do the Modis, and the Venkaiah Naidus and even law minister Ravi Shankar Prasad speak selectively and occasionally? Do some Indian lives matter more than others?
Unfortunately it seems that they do. The killers of Mohammad Ayub in Gujarat, lynched on the eve of Modi's visit to his home state were given bail by the higher courts, the killers of Mohammad Mazlum Ansari and Imitiyaz in Latehar have also got out on bail six months ago. Those accused –even falsely of acts of bomb terror –do not get bail, often until the final acquittal. They remain incarcerated.
This imbalance, even prejudice or bias – privileging Mob Terror over Bomb Terror must stop. The Indian establishment must look at the two as two sides of the same coin. Or else we are perpetrating an injustice on our own.
The numbness has finally broken, a Facebook event went viral and more and more Indians joined in. This is a good beginning, even if it comes somewhat late. It needs to go farther however, to assert, again and again, in public discourse that Mob Terror is as Vicious as Bomb and to ensure that every police station, ever district collector, every railway policeman functions as the Indian Constitution requires him or her to, and not as per the dictates of the hate-ridden agenda of the sangh parivar.

---