The Indian Express reports that the UP Police have obtained an order to get 5 Bheem Army's Facebook pages deleted but there is no news on any attempts to block the accounts or pages of those individuals or organizations who incited violence against Dalits in Saharanpur.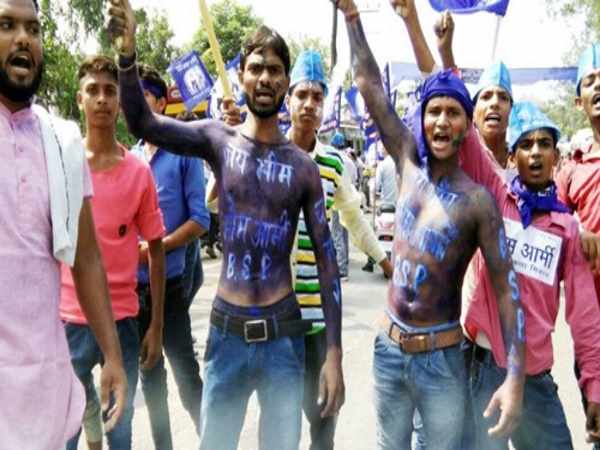 Bhim Army
The Saharanpur police have procured a court order to get five of Bheem Army's Facebook accounts deleted. The police had moved court recently to procure the order and also get details of the persons who posted "objectionable" comments, audio and video, and the account administrators
The court has reportedly delivered the order last week. "We had to obtain permission from the local court before approaching the Facebook headquarters, as these five accounts are run by individuals… We have already intimated Facebook authorities through email, following which, it has asked for details of the FIR lodged and the court order," Saharanpur SSP Babloo Kumar said.
The step to get the Facebook accounts deleted was taken allegedly to stop the Bhim Army from spreading hatred and rumours and disturbing the law and order situation, police said. Police have engaged their cyber cell to prevent further spread of rumours after Internet and mobile messaging services were restored in the district on Saturday evening.
The cyber team is monitoring over 400 Facebook accounts and WhatsApp groups. Meanwhile, the Special Investigation Team (SIT) set up to investigate cases related to the caste violence in Saharanpur has received over 100 affidavits from the family members of the accused, claiming that they were innocent.The affidavits also carried attachments containing "evidence" that the accused were present elsewhere and not at the spot where violence had broken out. The SSP office had been receiving such affidavits for the last one week. All the affidavits were forwarded to the SIT on Monday for verification of the claims.
In all, 46 FIRs have been registered and 95 people arrested. Police have also obtained non-bailable warrants against 15 other accused, including Bheem Army chief Chandrashekhar. Three Bhim Army supporters arrested Muzaffarnagar police on Sunday arrested three persons from Shukartal area of the district for allegedly collecting funds on behalf of the Bhim Army "to help Dalits, who had lost property during last month's violence".
Amit Kumar, Bablu and Harish — all residents of Muzaffarnagar — were on Monday produced before the court, which sent them to judicial custody. Police have seized two donation boxes, banner and pamphlets. Additional Superintendent of Police (Rural) Vineet Bhatnagar said: "We are collecting details about the accused… if they are connected to Bheem Army… Amit is the convenor of Muzaffarnagar-based organisation Jai Sindhu Sangh."
---