First of a Kind: Collective Formed in Kerala to Make Cinema Workspace Women Friendly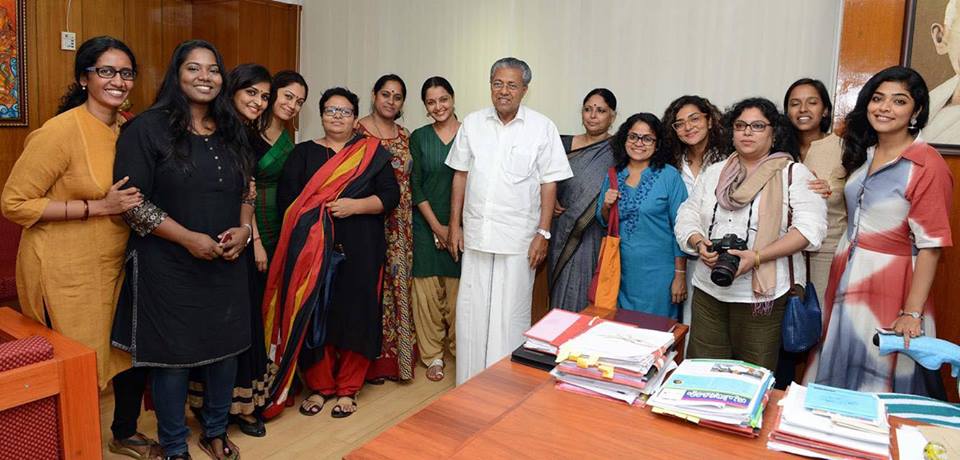 Image Courtesy: Women in Cinama Collective
Women in the Malayalam film industry have taken an important step towards the empowerment of women in workspaces. Recently, when a popular Malayalam film actor was abducted and sexually assaulted, women in the industry began to discuss ways of making the Malayalam film fraternity women-friendly. Actors Manju Warrier, Parvathy, Bhavana, Geethu Mohandas, Rima Kallingal, Remya Nambeesan, Surabhi Lakshmi; film directors Anjali Menon, Vidhu Vincent; screenwriter Deedi Damodaran; film editor Bina Paul, and other prominent women from the industry got together through WhatsApp, and decided to form a collective to represent their common interests. Thus discussions which began by providing support to the victim, took formal shape as the Women in Cinema Collective.
The Women in Cinema Collective has put together a set of demands on the basis of cinema as an informal industry and a work space. They have presented a memo of the demands to the Kerala Chief Minister Pinarayi Vijayan. The demands include maternity benefits, complaint cell, changing rooms, restroom, equal pay for women, and provident funds for women. The suggestions also include proactive welfare measures to facilitate participation by more women in the industry — such as reservations for women in government-owned studios and subsidies for production crews that have substantial participation by women. Together, the demands aim at more equitable representation of women in the film world.
In addition to these demands, the Collective has suggested a gender study of the industry to provide a holistic picture of gender disparity. This was the major demand raised in the memo to the Chief Minister. In response, the Kerala CM has agreed to set up a committee to study gender disparity and the existing working conditions for women in the industry.
Insisting on a gender study to provide a clear picture of the condition of women in the industry, film editor Bina Paul Venugopal added, "This is only the beginning, there is a long way to go." The Collective plans to decide its future course of action based on such a study. On the nature of the Collective at present, Bina Paul said that that the shape of the collective is not yet decided. It could be a trade union or a support group. Bina Paul also placed the Collective in a larger context, to emphasise that the initiative is relevant to the industry beyond Kerala. "This is not an unique case… All over the world, in many movie industries, gender questions are addressed and gender studies carried out."
Film actors Konakana Sen Sharma, Suhasisni Maniratnam, Khushbu Sundar, Dulquer Salman and Prithviraj Sukumaran are among those who have expressed solidarity with the Collective. This initiative by women in the Malayalam film industry is significant, especially because the entertainment industry is blatantly sexist and makes big profits through its misogynistic representations of women on celluloid.
---