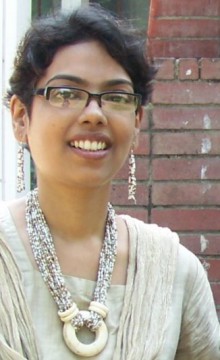 It began when I stood beside fellow poet Srijato Bandyopadhyay, who, emotionally disturbed by Yogi Adityanath and his associates' communally violent threats, wrote a poem on the subject and posted it on Facebook. In the last line, he wrote "Your trident would be covered by condom". An F.I.R was lodged against him by Arnab Sarkar, a member of Hindu Samhati. From the very beginning, I stood by Srijato, and posted poems regarding the whole incident. I started receiving posts after posts, and comments after comments, which abused me in the most obscene manner. Even though I was badly hurt, I thought it would be better to uncover the ugly face of communal fundamentalists of our country, which is the real threat India is facing today.
On 25 March, I, along with some like-minded friends, called a rally in support of Srijato Bandyopadhyay. It was a success. I wrote a post on my Facebook timeline about that rally. On 29 March, I received a threat of gang-rape, in the crudest, filthiest language. I had ignored the personal abuses till now, but I could not remain silent this time. I lodged an F.I.R with the Cyber Crime Branch of West Bengal police, and included all the documents and the URL of that man's Facebook profile. On the same date, someone commented that anyone who rapes me, will be rewarded by him. He, along with others, even called for solidarity to expel me from the country. I could not take this lightly. But, since 29 March — the day I lodged the F.I.R — the police has not made any arrests.
Srijato, after being threatened, has been provided with the West Bengal Government supremo's assurance and a personal bodyguard. I prayed for personal security from the police, but they denied it bluntly. I am not really scared by all these things, but my fear and anxiety is for the future of our society. Where is our society heading? Is it retreating backwards?
It is time to raise this question. I received a threat and the media responded to my situation. But what about scores of other women? From a seven year old child to a seventy year woman, women are being raped every day in cities and villages. The numbers have taken West Bengal to the top spot in the country in the number of rape crimes!1 Apart from incidents circulated by the media, scores of other cases remain unheard. In most cases, women are brutally murdered after being raped or gang-raped. This is the difference between violence on men and women. Women are more vulnerable as the threat of sexual assault always looms large.
It is a shame that women are sexually harassed, molested, raped and killed like this, when we have a woman Chief Minister. Her infamous quotes on this subject are: "Young boys are sometimes naughty and unruly, they can do things like this"; "If you have a body, rape can happen to you, like fever and other illnesses"; "Why are you asking me about all these rapes, am I male?" 2
This is a sad situation for women. I fear about all of us, not just me. But I dare to ask questions. Maybe that's the difference.
Fundamentalists do not like being asked about their work. They don't like to be challenged. They snatch our basic constitutional right, like freedom of speech and expression, away from us. They desperately try to shut the mouths of creative people who stand for their commitment towards humanity. This is a democratic country where debate, not abusive attacks on an individual, is welcome. Srijato did not act out his concerns, he reacted to Yogi Adityanath's statements. If Srijato's poem has been called indecent, what about the speech by an RSS man, who, in the presence of Yogi Adityanath, has said that Muslim women should be taken out from graves and be raped? This is not only obscenity, but actually a sexual perversion called necrophilia. Adityanath has also said that if a Hindu woman marries a Muslim man, hundreds of Muslim women should be "taken out". What does he mean by "taken out"? Is this not a threat to women?
There are so many questions to be raised. People ask me whether I'm alright. I say I am not. I reiterate, I am not concerned about myself but I am fear about us, all the common citizens of our country.

---
Poem in Bengali by Mandakranta Sen
The poem translated into English by the poet
You want to rape me? I am not scared by your threat.
I only fear our society's fate
Is it really going ahead? Or is it taking backward steps?
In our country, an incredibly cruel climate is hanging like dark drapes.
They don't just rape me, they rape civilization as a whole.
Mankind is hurt both in body and soul.
We are not afraid of fundamentalist fright.
Why else do you have so many friends? Hold each other's hands tight.
They are seizing our freedom of speech.
In return they throw towards us the obscenity that they preach.
Mankind would not tolerate such vile violence.
The time has come, speak out my friends.
Banish these fundamentalists from our civilization.
Let the poet write down the protest of our nation.

---
1. According to the National Crime Records Bureau records West Bengal ranked first in 2012, and third in 2013. Refer to the report published in The Hindu here.
2. Although we could not trace reports where Mamata Banerjee is quoted saying these, the West Bengal CM has made controversial statements on increased rape crimes in West Bengal. Some of them can be read here, here, and here. All these reports are separate instances, some of which happened two years ago.
Watch Srijato's interview in Bengali on the same issue here.
The views expressed in this article are the writer's own, and do not necessarily represent the views of the Indian Writers' Forum. The endnotes have been compiled by the ICF Team.