Law in the Time of BJP
Adityanath government launched 'anti-Romeo' squads in Uttar Pradesh. In the name of stopping eve teasing, police started catching couples roaming together. There have been reports of even siblings or married couples being caught and harassed by the police. Moral policing is happening all over the state in the name of 'anti-Romeo' squads. The Lucknow bench of the Allahabad High Court on Thursday upheld the 'anti-Romeo' squads. A Lucknow bench of Justice Amreshwar Pratap Sahi and Sanjay Harkauli gave the order on a Public interest litigation filed by a lawyer, questioning the 'anti-Romeo' drive in UP.
Few days ago, on 21st March, the Uttarakhand high court declared Ganga and Yamuna rivers as 'living entities'. The court order stated, "…to protect the recognition and the faith of society, rivers Ganga and Yamuna are required to be declared as legal persons [or] living persons."
The Gujarat Assembly has amended the Cow Protection Act on 31st March. For the first time in our country, a state assembly has set up imprisonment for life for slaughtering a cow. With this Act, cow slaughter has become a non-bailable offence in Gujarat. A person if found possessing beef, can face jail term, from 7-10 years. The state government had been hinting at making rules against cow slaughter stricter for some time now. The earlier law provided for punishment for three to five years for cow slaughter.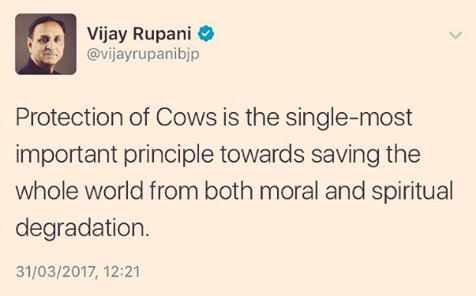 Addressing the Assembly, Chief Minister of Gujarat, Vijay Rupani said that he was "not against any food", but aimed to turn Gujarat into a completely shakahari (vegetarian) state. He invoked Mahatma Gandhi and said that Gujarat is a "unique state" and they follow "truth and non-violence"
Pradeepsinh Jadeja, Home Minister of State introduced the bill in the house, saying, "This is not a bill but a feeling of crores of Indians. It is my humble attempt to give voice to the cows being killed by butchers. A single drop of cow blood falling on earth pains Hindus". He added that he was "proud to be a Hindu", after which Jadeja turned to the visitors' gallery to pay respects. The gallery was filled with around 300 Hindu saints who had come to witness the passing of the 'historic' bill.
This step has inspired other right wing organisations to intensify their struggle in other states to endorse vegetarianism. VHP urges replication of the new Gujarat law to the Maharashtra government. Hindu organisations demand closure of all meat shops in Bengaluru.
With the current government in these states, the lives of holy cattle and holy rivers possess more importance than love, lives and livelihood of human beings. ­