'A woman should never stay behind a man; we must stay ahead of them'
Our ongoing series of interviews with a number of women we admire — teachers, journalists, musicians, students, lawyers, startup employees — all young, established, or retired professionals in their fields, discussing gendered aspects of their work and working life. We hope you like these heartfelt discussions. Stay tuned for more to come!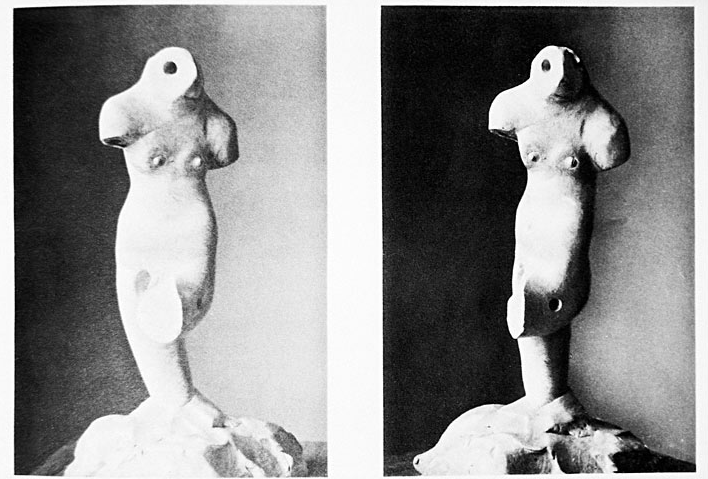 From Mohenjo-Daro, first millennium BCE / via harappa.com
Francine Kay
Pianist and music teacher | New York City, Toronto, Montréal, Burlington
Classical Music and Gender
Just the other day, I was teaching a lesson and making a comparison between a piano sonata and a work of 18th-century opera, wanting to illustrate the character differences in the sonata's melodic phrases – one higher in register, questioning sweetly, the lower register answering with confidence and ardour. In the lesson, I stopped myself from reflexively describing the higher, sweet voice as the feminine character in the opera, and the lower voice as her manly suitor – images which are completely accurate for opera of that era. I did not feel comfortable using these gender associations, however relevant they may have been for classical opera, without first contextualizing the history of gender stereotypes in opera, theatre, literature, and the society of the time for the student.
This was not ever an issue that was discussed when I was a student. Music could be routinely characterised as masculine or feminine without questioning what that might mean or where the labels came from. I remember a case at Juilliard in which someone, by way of complimenting her playing, told a woman that she 'played like a man'. Since the music that I love, study, perform, and teach is European classical concert music, largely from the 17th to the 20th centuries, patriarchy, and the oppression of women, is sadly part of the historical context.
The beacon of light is that music itself transcends all boundaries and labels. Music's domain is that of the universal, the compassionate, the free spirit, and the genderless soul. This is the message and the mission to which I have dedicated myself.
I feel that it is still important to bring the issue of the historical tragic silencing and prejudicial treatment of women in the arts and in all fields of endeavour into the light, for all to see, examine, mourn, and take responsibility for.
Women composers such as Maria Ana (Nannerl) Mozart, Fanny Mendelssohn, and countless others were forbidden to be artists. They were threatened, scorned, and trapped. We must re-member this and give this tragedy its due reflection and sorrow. Even in the 20th century, women have been banned from playing in certain orchestras. The Vienna Philharmonic did not accept female musicians to permanent membership until 1997. The head of the Paris Conservatoire, Bruno Mantovani, declared in 2013 that conducting could be too 'physically demanding' for a woman.
Thankfully, enormous strides have been made. Women for the most part no longer face as many horrible injustices, and are freely taking their places as composers, conductors, pianists, orchestral musicians, in spite of the challenges. However, I feel that this is not enough. It is not enough to be satisfied with this gradual shift to justice. We must question, and ask, from where do these injustices stem? Where do gender stereotypes come from, and how are they still marketed to us? How do they inhabit our subconscious minds, our myths, our fairytales, our operas, our fears, our perceptions, our publicity photos and concert advertisements? Indoctrination can be subtle.
I am very excited by what I see happening now with much more attention being paid to gender issues, and freedoms. I am excited to be playing a trio by Clara Schumann in an upcoming performance. And I am thrilled that my students are coming to these issues with a different perspective than I – one that does not have the narrowly defined gender notions that I grew up with.
I would like to ask: please keep on questioning, keep on seeking. This is not over. Please also remember that many people came before us, people who suffered, who were denied, and it is because of them that we can keep moving forward.
And finally – yes, Music is the answer.

Claude Débussy, 'Feux d'artifice' [Fireworks], 1913 / Performed by Francine Kay / Filmed by Evan Chapman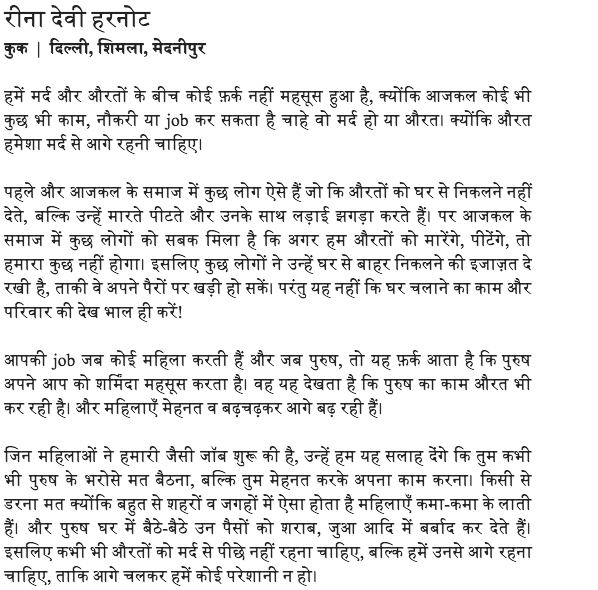 Reena Devi Harnot
Cook | Delhi, Shimla, Mednipur
I have never felt a difference between men and women: these days anyone, man or woman, can engage themselves in any job or profession. Because women must always remain ahead of men.
In the past as much as today, in society there are some people who will not let a woman leave the home. Rather, they hit her, beat her, fight with her. But in today's society some have learnt the lesson that if they hit or beat women, no benefit will come to them. So, some people have given women permission to leave the home, that they may stand on their own feet, and not just run the home and take care of the family!
When a woman does your job as opposed to a man, the difference emerges that men feel embarrassed or ashamed. They see that a woman too is doing a man's work. And that, through hard work and struggle, women are moving ahead of men.
For women starting out in my profession I have the following advice: Don't ever idly trust a man; work hard at your job instead. Don't be afraid of anyone, because in many cities and places things are such that women earn and bring in lots of money. And the men, sitting at home, burn it up in alcohol, gambling, and other such things. So, a woman should never stay behind a man; we must stay ahead of them, so we don't have any difficulties in future.
Nargis Vasundhara
PhD, Sociology | Delhi
My research is women-centric, as I am looking into the lives and other unexplored subjectivities of female domestic workers. In understanding paid domestic work, the certain domestic roles that the female worker is familiarised with – sweeping and mopping, cleaning utensils, washing clothes, cooking, taking care of babies and the elderly, to name a few – seem to rhetorically question female domesticity, as the worker is re-trained into roles that society has historically believed to be hers. Regarding change, with the increasing number of women consciously moving out of their homes to work, and being paid as secondary earners in the family, domestic work has probably become one of the largest urban occupations for women in India within the informal and organised sectors. Recognising change from this broad angle, specifically towards paid, gendered labour which till recent decades went unnoticed, helps put into perspective the longstanding debate between the public and the private, and its implications for this occupation. For the female domestic worker, the public/ private divide is being conflated, as we see the woman stepping out of the private realm of her home into the public, yet that public is also in the realm of the private due to the nature of work for which the female domestic worker is employed. (Changes at a micro level are probably far too complicated to address in just a few lines!)
Not to completely dismiss men as incompetent, but female researchers for a gender issue – always a good idea! Gaining trust and having women workers open up without biases is more likely when another woman, solely through the precarious and important medium of talk/ speech/ expression, tries to grasp and understand the subjective sentiments of another narrating their life stories. The one drawback I've faced, only because I am undertaking this research alone, was when an elderly woman worker residing at my field site (a slum in south Delhi) advised me at the onset of my study not to come alone, and kept repeating that I should bring at least one other person along. Her reasons were tthe boys/ young men of the slum – 'unki soch theek nahi hai'! Although this was slightly daunting to hear and it did throw me off – the prime four accused in the gruesome Nirbhaya rape all resided in a slum across the road from there – I laughed it off as it wasn't just a problem in any one specific area.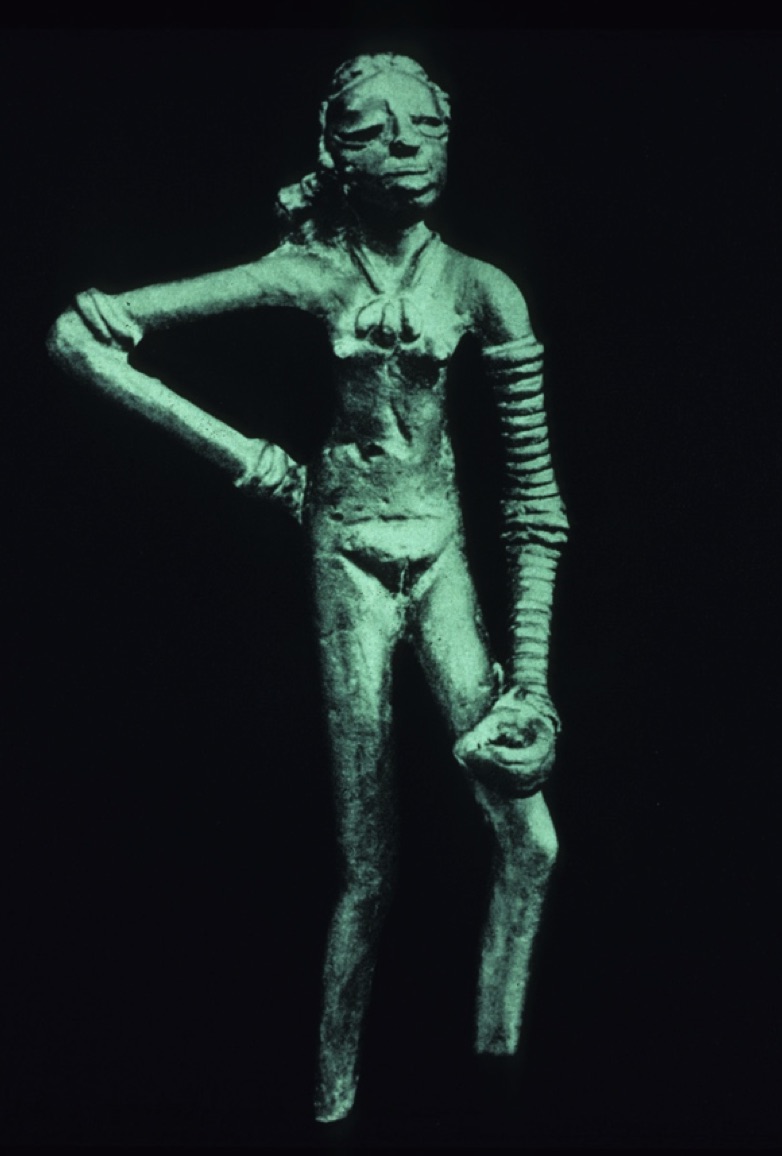 From Mohenjo-Daro, first millennium BCE / via wishberry
---
An ICF series of interviews begun on International Working Women's Day:
PART 1

Baby Halder

PART 2

Sumana Chandrashekar, Vidushi Sukkanya Ramgopal, Soni Sori, Essar Batool, Nayantara Sahgal, Abha Dev Habib

PART 3

Gayeti Singh, Saba Hasan, Samina, Usha Kumar, Jyoti Bhalla, Megha Patnaik

PART 4

Francine Kay, Reena Devi Harnot, Nargis Vasundhara

PART 5

Anamika, Prerna Shrimali, Kusum Ansal, Mrinal Pande

PART 6

Maya Ghosh

PART 7

Lara Bhalla, Arundhathi Subramaniam, Neha Kumar, Madhur Kumar, Shweta Jain

PART 8

Mridula Koshy

PART 9

Shoili Kanungo, Sumana Chandrashekar, Aparna Wahi, Nandita

PART 10

Mirai Chatterjee, Rolee Srinath, Saba Sharma, Radhika, Shaminaj Khan

PART 11

Dalip Kaur Tiwana

PART 12

Shashi Deshpande