Illusions
Illusion I
Virgin paper—a soldier
Writes a glorious poem in blood-ink.
Later crumpled
Tear-blotted,
Torn and scattered
(Like his own body),
After Victory is declared.
Illusion II (inspired by Siegfried Sassoon's "Survivors")
Men who went out to battle, grim and glad;
Children, with eyes that hate you, broken and mad.
Women in waiting
Each day—a year
That shrunk life
To anguish and fear.
Behind every living soldier
A body trails.
Tears of victory
Blot a shadowy history!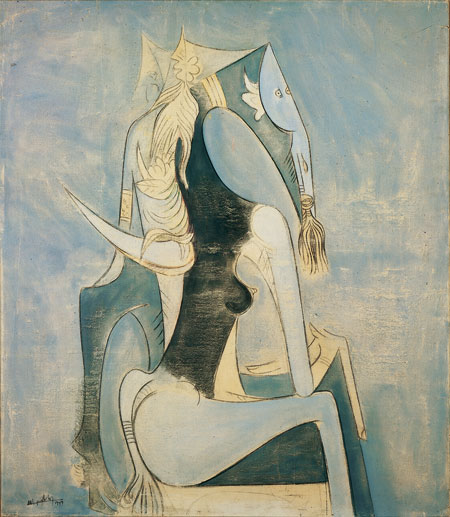 Samreen Sajeda is currently pursuing an MA in English Literature from the University of Mumbai. She has a passion for reading, writing, photography and travelling. Her work has been published in Muse India.
These poems are part of our unfolding Citizens against War series of literature and art, initiated in the spirit of listening: to our poets, artists, fellow citizens, against war and warmongering.
Image © Wifredo Lam, 'La Fiancée de Kiriwina', via WikiArt ; poems © Samreen Sajeda.
---