JNU Students on Indefinite Hunger Strike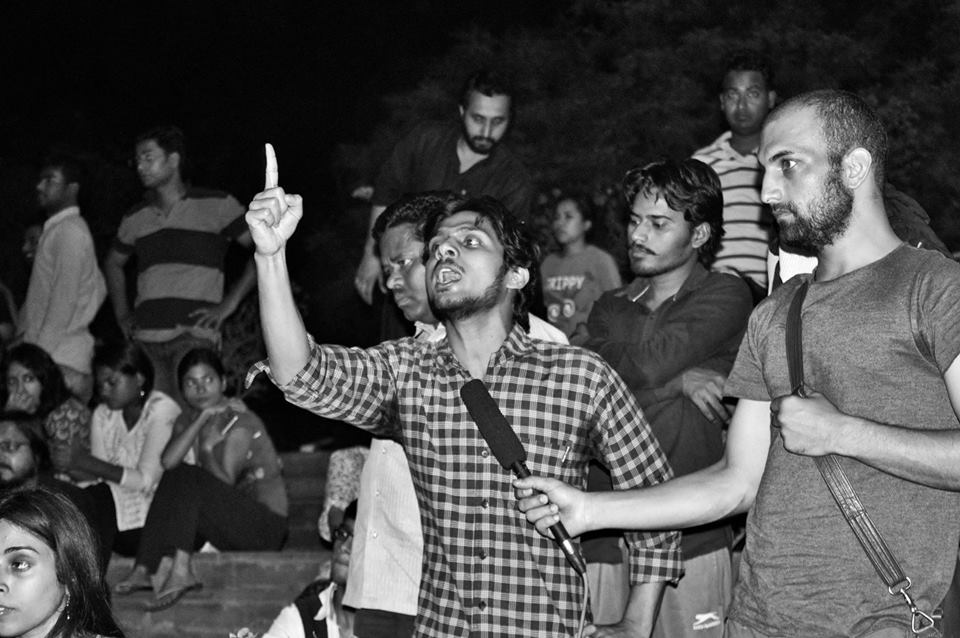 Photographs: V. Arun Kumar
Twenty students from the Jawaharlal Nehru University, including students' union president Kanhaiya Kumar, have sat on an indefinite hunger strike starting April 27, in protest against the actions of the High-Level Enquiry Committee (HLEC), and demanding that punitive action be revoked.
The enquiry committee on April 25 fined Kumar Rs. 10,000 and suspended three students, including Umar Khalid and Anirban Bhattacharya, for various durations.  Fines were also levied on fourteen others, hostel facilities were withdrawn for two, and the campus was declared out of bounds for two former students.
The indefinite hunger strike began after a large number of students, led by the Jawaharlal Nehru Students' Union (JNUSU), took out a torchlight procession on the night of April 27.
The torchlight procession, which started from the Ganga Dhaba, was led by the JNUSU office bearers.  The march culminated at the Administrative Block, which has been renamed Freedom Square.  JNUSU president Kanhaiya Kumar in his address to the gathering of students pointed out lapses in the enquiry committee's report.  He mentioned that the HLEC had regularly failed to fulfill the students' demand of sectional representation in the probe team.  Moreover the students, mainly Umar and Anirban, did not get a chance to appear before the committee.  The HLEC took action against them while they were in jail, which is a violation of the fundamental rights.  He added, "The Vice Chancellor is acting on diktats of the MHRD and the government."  Pointing out violations of the JNU constitution, the JNUSU president said the current administration was hampering the democratic nature of the university, in a direct blow to the JNU constitution.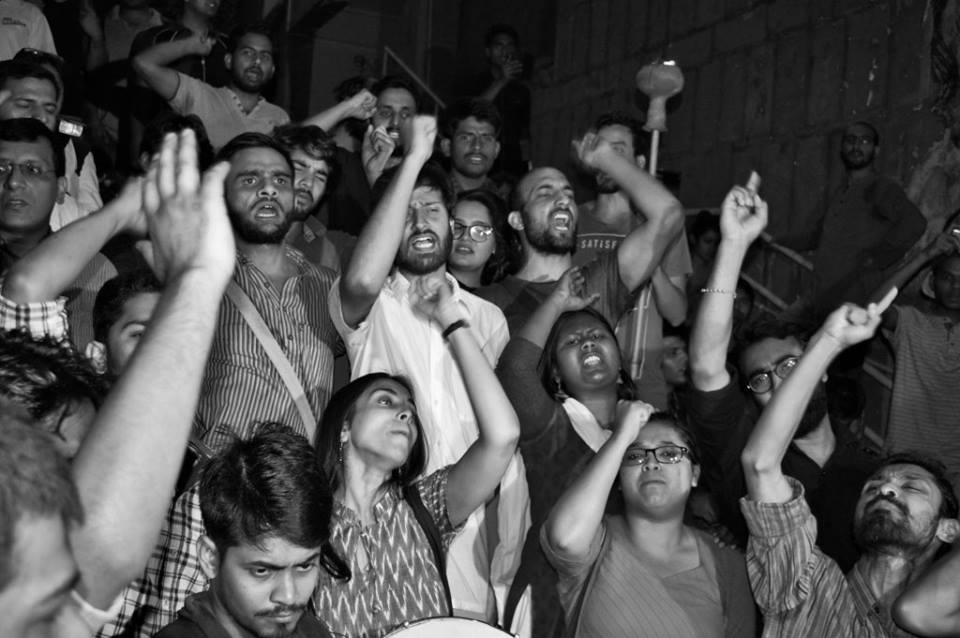 "The JNUSU call for an indefinite and relay hunger strike simultaneously is not merely to express anger against the HLEC or to have them revoke their action," he said.  The hunger strike, according to the JNUSU president, is also for "raising demand for hostels, deprivation points, a mess, and other such basic needs of the students.  The core idea of the strike is to preserve the democratic spirit of JNU."
"We have been maintaining right from the beginning that we have no faith in the probe committee.  The inquiry was a sham," said JNUSU General Secretary Rama Naga. He added that the strike had been declared to expose the administration, which has been acting not on behalf of the students but the MHRD.
The students who have decided to sit on an indefinite hunger strike are: Kanhaiya Kumar, Rama Naga, Umar Khalid, Shweta Raj, Chintu Kumari, Anant Prakash Narayan, Sabroni Ahmed, Aqsa Asger, Nitisha Kholkar, K. Feyaz Ahmed, Pratim Ghoshal, Anand, Pankhuri Zaheer, Samanth Singh, Sunaina, G. Suresh, Birendra, Awadesh, Sanjeev, and Parthipan.
First published in Newsclick.