A Portrait of Dontha Prashanth
Anisha Seth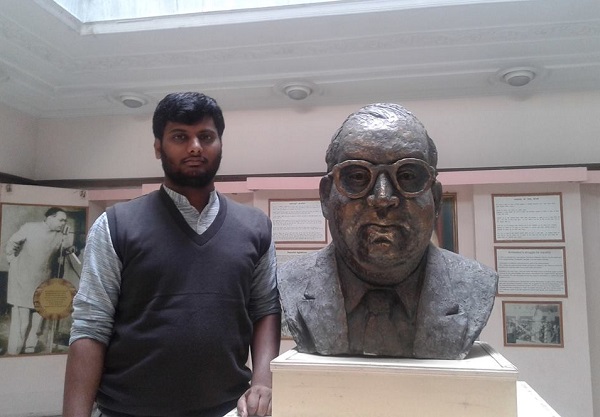 Image: The News Minute
Dontha Prashanth patiently answers questions about everything that has happened in the six days he spent in jail, and the events that led up to it. But there is a small part of that story, which he glosses over: an emotional moment when his father came to visit him.
On the day of his arrest, Prashanth recalls, he desperately tried to get in touch with his family.
"When all this was happening, I kept telling the police that I had to call my father. I just wanted to inform him. My father has several burdens, he is a BP patient and my mother suffers from low blood pressure. My grandfather died a few days before the arrest. All these things were happening at the same time. One cannot cope with so much tension. I (feared) it would be a life risk for him, but I was told 'You don't have any options, your human rights are collapsed'."
Once his parents were contacted, his father came to visit him in jail. All Prashanth says is that it was an emotional moment: "What hurt him more, was that I was being selectively targeted. We struggled a lot to come to the position where we are today."
Born in Arnakonda village in Karimnagar district, Prashanth's father dug canals earlier, and is a driver today. His mother grows cotton on a small plot of land.
"My grandfather never had access to land, so my father had to work as a labourer. He knew the importance of education, and so he made sure we got an education."
He and his older brother, Premkumar, studied at a Jawahar Navodaya Vidyalaya located 5 km from the village. Although Prashanth's education up to Class 8 was in Telugu, it helped that they were introduced to English in Class 5 and were slowly habituated to the language from then on.
Rohith Vemula and Dontha Prashanth (TNM, sourced from Facebook)
"My father studied along with us. He learned ABC and Telugu letters along with us. Now he writes in Telugu."
Growing up, school was relatively caste-free. "But when we played with other boys, sometimes their grandmothers would ask 'Why are you playing with these fellows'"
Asked if they lived in a Dalit colony, Prashanth said: "Of course we lived in the SC Colony." His childhood home was a hut. Eventually that gave way to a hut with metal sheets for a roof. In 2011, the family built a pukka house.
After completing Class 10, Prashant studied commerce in Class 11-12 and secured admission for a degree in economics at the University of Hyderabad in 2006. But his first choice was history. "In 2004, there were rumours that the Naidu government would cancel history courses; he would ridicule the social sciences (during the Telangana movement)."
In 2013, he registered for a PhD in economics and is studying land and productivity through the lens of caste. Land in India is generally in the hands of a few castes, and Dalits who have land are often share-croppers or tenants with small holdings. "Productivity is an outcome of land, which SC people don't have," Prashanth says, adding that he still has a lot of work to do to complete his thesis.
"Our social structures are based on caste, and economic relationships operate on caste, but economics isn't generally analysed from the caste angle. When the economy shifted from agrarian to the modern, it benefitted the landed gentry, because land is capital and they had access to it. You can't wish away caste."
With two or three more years left to finish his PhD, is he not daunted by the prospect of dealing with a court case and future employment?
"When I came here in 2006, the ASA helped me accept my identity. No, the police case does not make me want to give up. When democracy is being mocked, when the rules are being misinterpreted to favour someone and when a person loses his life on account of his identity or of the caste that he was born into, it becomes my duty also to fight against those structures. It's a part of my struggle that I've been jailed," Prashanth says.
When this is all over, Prashanth dreams of becoming an Assistant Professor.
"I want to share what I know with others. I don't want to keep it to myself. But I want my social life and my professional life to be in parallel. I want to take up the problems that my community faces. That's what I want my life to be."
First published in the News Minute.