Citizens Appeal to Supreme Court for Action against Hate Speech
March 4, 2016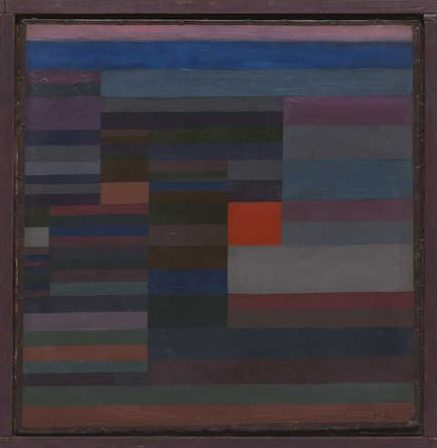 Image: Paul Klee / MoMA
Former judges and IPS officers, jurists, scientists and businessmen – a list that includes Justice PB Sawant and Julio Ribeiro — have in a fervent appeal to the Chief Justice and all other Judges of the Supreme Court of India urged suo motu constitutional action on the issue of alarming and threatening statements being made by persons currently in powerful constitutional positions within the Union government.
Quoting from the shocking and brazen speech made by Ram Shankar Katheriya, Union minister of state for human resources development (MHRD) in Agra as reported in the Indian Express on February 29, 2016, the representation also includes references to other shocking instances of hate speech from minister and elected representatives of the present government at the Centre.
Stating that India was being pushed to the brink by such statements, the signatories have urged that the Supreme Court set up a Permanent and Sitting Commission to monitor and oversee (videotape, record and document) all such meetings happening to prevent a situation of hate driven provocation and attacks on marginalised sections.
Justice PB Sawant, former judge of the Supreme Court of India and chairperson of the Press Council of India, heads the list, which also includes Julio Ribeiro, former director general of police, Punjab and ambassador to Romania. The other prominent signatories include Justice (retired) Rajinder Sachar, Justice (retired) BG Kolse Patil, Justice (retired) Hosbet Suresh, Iqbal Chagla (senior counsel), Cyrus Guzder (businessman), PM Bhargava (scientist), Dr Syed Zafar Mahmood (President, Zakat Foundation of India), Reverend Fr Dr Packiam T Samuel, Nandan Maluste (financial analyst), Janak Dwarkadas (senior counsel), Navroz H Seervai (senior counsel), Anil Dharker (senior journalist), IM Kadri (architect) and SM Mushrif (former inspector general of police).
The letter was submitted to the Supreme Court of India today. A similar appeal has been made to the President of India, Pranab Mukherjee.
The letter also states that:
These statements have caused fear and insecurity among India's citizens, the marginalized sections, especially minorities, Dalits and Adivasis.
The signatories have annexed here a news report titled "Muslims warned of 'final battle", where in the presence of a minister of state in the central government and a member of parliament (MP) of the ruling party, Muslims were equated to "demons" and "descendants of Ravana", and were warned of a "final battle".
Speakers reportedly urged Hindus to "corner Muslims and destroy the demons (rakshas)", while declaring that "all preparations" had been made to effect "badla (revenge)" before the 13th-day death rituals for Mahaur. "Human skulls would be offered to his martyrdom," VHP district secretary Ashok Lavania, who has been jailed earlier for assaults on Muslims, reportedly said.
Talking about the coming Assembly elections in Uttar Pradesh, BJP MLA Jagan Prasad Garg reportedly told the crowd, "You will have to fire bullets, you will have to take up rifles, you will have to wield knives. Elections are approaching in 2017, begin showing your strength from now onwards." The 5,000-odd crowd chanted slogans such as "Jis Hindu ka khoon na khaule, khoon nahin wo pani hai (Any Hindu whose blood does not boil isn't Hindu enough)".
MP Babulal reportedly urged an open fight with Muslims, and said: "Don't try to test us… We will not tolerate insults to the community. We do not want unrest at any cost, but if you want to test Hindus, then let's decide a date and take on Muslims."
Agra's BJP leader Kundanika Sharma reportedly said, "We want the heads of these traitors, the killers of Arun Mahaur,". "This is not the time to sit quiet. Chhapa maaro, burqa pehno, lekin inhen gher-gher kar le aao. Ek sar ke badle dus sar kaat lo" (Raid them, wear burqas, but corner them. Behead ten in revenge for one head)."
VHP district secretary Ashok Lavania reportedly said, "Ultimately it becomes an act of the society. Once people are galvanised, no question would be raised at all. In cases like Ram Janmbhoomi, Muzaffarnagar, the party had disappeared. But it is certain that revenge will be taken before the terahvin (13th day) is over. Khoon ka badla khoon (Blood for blood). Action will obviously be in Mantola area (where Mahaur was killed), but also across Agra. Wherever Hindus are in majority, it will happen. We are fully prepared. If they retaliate, then it will be a mahasangram, Mahabharat. The final battle.
"During Kali worship, narmund (human skulls) are offered after beheading demons. Before his terhavin, the Hindu community will perform a similar act and offer these narmunds. I am confident," Lavania said.VHP leader Surendra Jain reportedly claimed they would now dispense their own justice, and asked his members to form Gau Raksha Samitis (cow protection units) in every village and asked the administration to "not thwart their efforts as they are doing the administration's work". "If anyone, even the IG here, has any doubt about the law, they can approach me. I will show them the clauses of the IPC that say if you (police) do not perform your duty then common citizens can take law in their own hands."
Jagmohan Chahar, the Bajrang Dal district coordinator, reportedly dared Muslims "to come out in the open".
The fact that this report, in The Indian Express, refers to an upcoming election in the state of Uttar Pradesh (2017) and elections in several states this year bodes ill for social harmony and peace.
The fundamental rights of the people under Article 14, 19, 21 and 25 of the Indian Constitution need to be protected.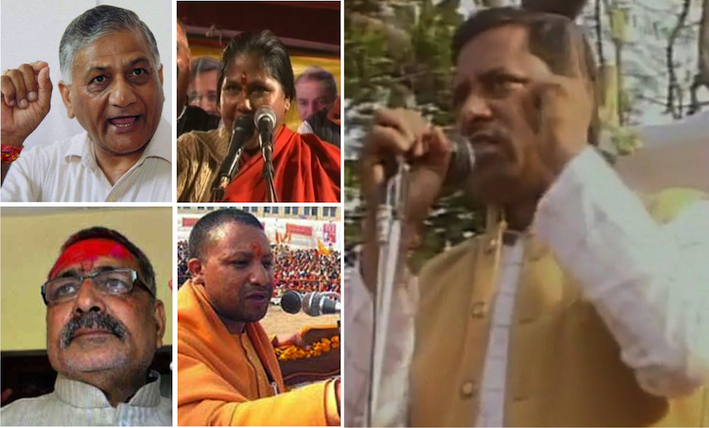 Image: Sabrang
The letter urges that the Hon'ble Supreme take suo motu notice of this and issue strict directions that protect the fundamental rights of all Indians.
1. The minister, the MP, the MLA and all other culprits need to be punished for violating their constitutional duty under Article 51A(e) to promote harmony and the spirit of common brotherhood amongst all the people of India transcending religious diversities.
2. The offenders need to be proceeded against under Sections 124A, 153A, 153B, 292, 293, 295A, 505 of the Indian Penal Code.
3. The letter also urges that the Hon'ble Supreme Court that a Permanent and Sitting Commission be appointed to monitor and oversee (video tape, record and document) all such meetings happening to prevent a situation of hate driven provocation and attacks on marginalized sections. Our country is being pushed to the brink with these kinds of statements, The representations were submitted today, Friday, March 4 2016. The other references included in the representation include:
1. MOS, HRD Katheria, warned of 'final battle' at Sangh meet. Katheria says, "We've to show our strength." BJP MP, MLAs also present at meet; Muslims called "traitors", "demons", Hindus told to pick up "guns" for poll. http://indianexpress.com/article/india/india-news-india/muslims-warned-of-final-battle-at-sangh-meet-mos-katheria-says-weve-to-show-our-strength/
2. MOS External Affairs VK Singh: "If somebody throws a stone at a dog, then the government is responsible?." The retired general and Union minister said this in response to the murder of two Dalit children in Faridabad; November, 2015.  http://www.ndtv.com/india-news/not-governments-fault-if-one-stones-a-dog-vk-singh-on-dalit-childrens-killings-1235137
3. MOS Sadhvi Niranjan Jyoti, at a public rally during Delhi elections, December 2014: "People of Delhi have to decide whether they want a government of Ramzaadas (followers of Ram) or haraamzaadas": https://www.youtube.com/watch?v=tMLOwSb48D4
4. BJP MP, Yogi Adityanath, at a public meeting against alleged the 'Love Jihad' of Muslims, August 2014. "If they take one Hindu girl, we will take at least 100 Muslim girls. If they kill one Hindu, we will kill 100 Muslims": https://www.youtube.com/watch?v=5WgcoTPCuTY
5. MOS Giriraj Singh: "Those opposed to Modi should go to Pakistan": https://www.youtube.com/watch?v=A8zete3Y2FU
6. BJP MP, Sakshi Maharaj, September 2014: "Education of terrorism is being given in madrassas. They (madrassas)… are making them terrorists and jihadis….It is not in national interest": https://www.youtube.com/watch?v=i_FsdXdOXwY
7. BJP president, Amit Shah, at an election rally in Bihar, October 2015: "If BJP loses Bihar elections, crackers will be burst in Pakistan": http://www.ndtv.com/bihar/if-bjp-loses-bihar-elections-crackers-will-off-in-pakistan-amit-shah-1237845
8. MOS for parliamentary affairs, Mukhtar Abbas Naqvi, during a TV programme; May 2015, "All those who desperately want to eat beef should go to Pakistan": https://www.youtube.com/watch?v=6U-MOTB3uYw
9. RSS chief, Mohan Bhagwat, at the golden jubilee celebration of VHP in Mumbai, August 2014: "Hindustan is a Hindu nation…Hindutva is the identity of our nation and it (Hinduism) can incorporate others (religions) in itself": http://indianexpress.com/article/india/india-others/india-is-a-hindu-nation-and-hindutva-is-its-identity-says-rss-chief-mohan-bhagwat/
Courtesy Sabrang